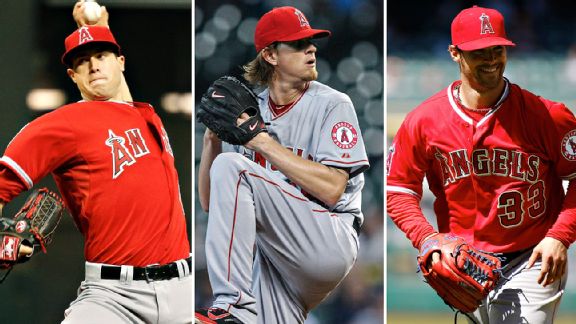 USA TODAY Sports
The Mets are due to face Tyler Skaggs, Jered Weaver and C.J. Wilson this weekend in Anaheim.METS (4-5, fourth place/NL East) at LOS ANGELES ANGELS (4-5, third place/AL West)
Friday: RHP Dillon Gee (0-0, 4.50) vs. LHP Tyler Skaggs (1-0, 0.00), 10:05 p.m. ET
Saturday: LHP Jonathon Niese (0-1, 3.18) vs. RHP Jered Weaver (0-2, 6.00), 9:05 p.m. ET
Sunday: RHP Bartolo Colon (1-1, 2.08) vs. LHP C.J. Wilson (1-1, 4.61), 3:35 p.m. ET
Angels short hops
• Left fielder Josh Hamilton, the reigning American League co-Player of the Week, fully tore the ulnar collateral ligament in his left thumb on a headfirst slide into first base Tuesday and may miss as much as two months. Ex-Met Collin Cowgill should see increased playing time in Hamilton's absence, potentially platooning with J.B. Shuck. Cowgill, the Mets' Opening Day starter in center field a season ago, was traded last June 25 to the Angels for minor-league outfielder Kyle Johnson, who currently is playing for Double-A Binghamton. Hamilton had been hitting .444 with two homers and six RBIs in 27 at-bats.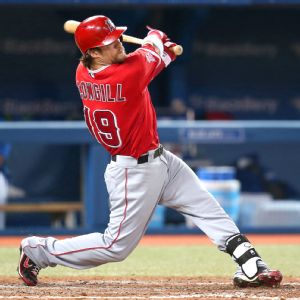 Tom Szczerbowski/Getty Images
With Josh Hamilton injured, that means more Collin Cowgill in the starting lineup for the Angels.
• Ex-Mets reliever Joe Smith signed a three-year, $15.75 million deal with the Angels as a free agent on Nov. 27. One reason for choosing L.A., aside from the money: His fiancée, Allie LaForce, is a CBS Sports host based at an Orange County studio. She is a former Cleveland sports anchor. While with the Cleveland Indians last season, the sidearmer jawed with now-ex-Met Justin Turner after a heated plate appearance.
• Center fielder Mike Trout, a 22-year-old Millville, N.J., native, signed a six-year, $144.5 million extension with the Angels on March 28. Based on average annual value, the contract became the largest ever for a player who had not yet reached three years of MLB service, according to ESPN Stats & Information. The deal is worth $24.08 million per year, which tops Buster Posey's $18.56 million average annual salary that runs through 2021. By total value, Posey's $167 million guarantee ranks No. 1 for a player with less than three years of MLB service, although that contract covers nine years. Trout would not have been eligible for arbitration for the first time until after this season. He was not eligible for free agency until after the 2017 season.
• Albert Pujols, 34, had career lows last season with a .258 average, 17 homers, 64 RBIs, 99 games played and 443 plate appearances. He has a 10-year, $240 million contract that includes full no-trade protection. The contract runs through 2021, escalating to $30 million the final year. After a slow start to 2014, Pujols has homered in two straight games, giving him 494 long balls for his career. He would become the 26th player to reach the 500-homer plateau. Pujols also crossed 1,500 career RBIs this week, making him the only active player at that level -- unless you count Alex Rodriguez as active.
• The Angels are an MLB-best 84-44 in interleague play since 2007.
• When manager Mike Scioscia took over as manager of the Angels for the 2000 season, he essentially succeeded Terry Collins in that role (although Joe Maddon had managed the final 29 games in 1999).
• The Angels acquired third baseman David Freese and right-handed reliever Fernando Salas from the St. Louis Cardinals on Nov. 22 for Peter Bourjos and Randal Grichuk.
• Left-hander Tyler Skaggs limited Houston to one unearned run in eight innings in his season debut. The 22-year-old southpaw had been traded by the Angels to the Arizona Diamondbacks on Aug. 7, 2010 in the Dan Haren deal. He was reacquired from the D-backs in a three-team deal this past offseason that included Mark Trumbo landing in Phoenix.
• Catcher Chris Iannetta is hitless in his past 15 at-bats.
• DH Raul Ibanez, who is 41 years old and off to a 5-for-26 start, is two hits shy of 2,000 for his career. He would become the 12th active player with 2,000 hits and 300 homers.
• The Angels desperately need lefty relief help in a division that now includes Prince Fielder, Shin-Soo Choo and Robinson Cano. The two planned left-handers in the bullpen have experienced medical issues. Rule 5 pick Brian Moran will require season-ending Tommy John surgery. And Sean Burnett, limited to 13 appearances last season due to an elbow injury that required surgery, had renewed discomfort during spring training and is not active. The lone lefty in the bullpen right now is Nick Maronde, who made his first career Opening Day roster. But lefty batters are hitting .323 with a .450 on-base percentage against Maronde in his three-year big-league career. Among the lefty relievers in Triple-A for the Angels: ex-Met Robert Carson.
• Hitting coach Don Baylor broke his right thigh bone catching the ceremonial first pitch from Vladimir Guerrero on Opening Day. Baylor, 64, hopes to return to the Angels by late May, but the standard recovery time for a fractured femur can be four to six months.
• Jered Weaver, plagued by shoulder tendinitis for the past three seasons, has allowed nine runs (eight earned) in 12 innings through two starts. He has surrendered four homers. Weaver's fastball velocity is averaging 85.9 mph this season. It has steadily declined each season since 2010, from 89.9 to 89.1 to 87.8 to 86.5 and now to its current level.