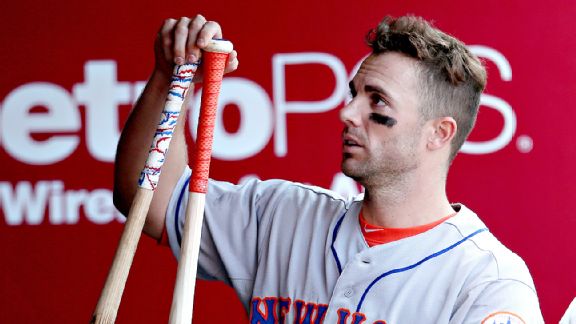 Stephen Dunn/Getty Images
David Wright exits the visitors' dugout after his seventh-inning ejection -- the fourth heave-ho of his career.ANAHEIM, Calif. -- David Wright and Daniel Murphy toed the line in their postgame comments about plate umpire Toby Basner, trying to limit the fine they will incur.
Their displeasure with the strike zone was nonetheless evident during Sunday's 14-2 loss to the Los Angeles Angels.
Wright and Murphy were ejected by Basner in the seventh inning after a called third strike on teammate Travis d'Arnaud.
Seven of the Mets' 11 strikeouts in the game were looking at third strikes.
"Did you watch our game? Everybody who watched the game knows," Murphy said about his beef with Basner. "I don't think I need to say anything else about it. There was a disagreement is the best way to describe it."
Said Wright: "I'm not even going to get into that. I'm not going to get into any more trouble than I'm already in. There were some disagreements."
Basner, a 29-year-old Triple-A call-up, had called Murphy out on strikes in the third inning and Wright out on strikes in the sixth inning.
"I think I had voiced my opinion early on a pitch I disagreed with, on a 3-2 call," Murphy said. "Maybe he had enough. I don't think there was any certain buzzword we had for him. We disagreed with the call he had on Travis as well."
Said Wright: "We have each other's back, that's for sure. When something happens to one of us, it happens to all of us. It's important not just being ejected or anything, but just in general, we need to have each other's back. We do."