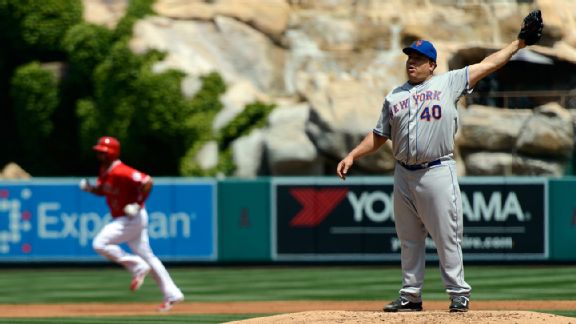 Kelvin Kuo/Associated Press
Albert Pujols rounds the bases after a first-inning homer against Bartolo Colon.ANAHEIM, Calif. -- Bartolo Colon was flattened by the Los Angeles Angels on Sunday.
Colon matched a career high for earned runs allowed with nine in the Mets' eventual 14-2 loss. The damage inflated his ERA to 6.00.
The barrage included four homers, highlighted by back-to-back-to-back shots in the first inning by Mike Trout, Albert Pujols and Raul Ibanez.
"At that moment, you're not thinking, 'Why is this happening?' It's just part of the game," Colon said through an interpreter afterward.
Colon eventually logged 81 pitches and five innings, trying to spare a heavily used bullpen more work.
The Mets relief corps tossed 13 1/3 innings in the three-game series. The teams played 11 innings on Friday and 13 innings on Saturday.
"He had to give us some innings," Terry Collins said about Colon. "He knew it."
Colon uncharacteristically missed with his fastball command Sunday.
"It just wasn't Bart's day today," David Wright said. "And from what I've seen from him, these days are few and far between."
Said Collins: "He was just up in the zone today with all his stuff today. That's just not him."