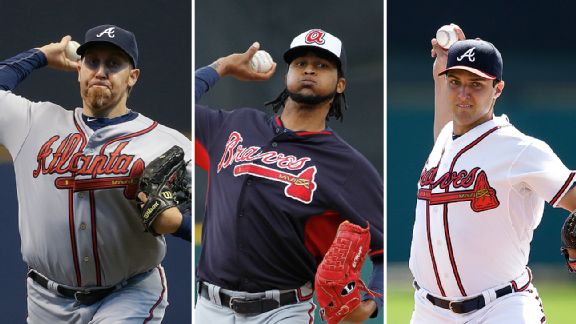 Associated Press/USA TODAY Sports
Identical to the series at Turner Field, the Mets face Aaron Harang, Ervin Santana and David Hale this weekend in Queens.
METS (8-7, third place/NL East) vs. ATLANTA BRAVES (10-5, first place/NL East)
Friday: LHP Jonathon Niese (0-1, 3.46) vs. RHP Aaron Harang (2-1, 0.96), 7:10 p.m. ET
Saturday: RHP Bartolo Colon (1-2, 6.00) vs. RHP Ervin Santana (1-0, 0.64), 7:10 p.m. ET
Sunday: RHP Zack Wheeler (1-2, 4.76) vs. RHP David Hale (0-0, 2.89), 1:10 p.m. ET
Braves short hops
• Jason Heyward faces Jonathon Niese for the first time since the Mets southpaw drilled the right fielder and fractured his jaw with a 90 mph fastball last Aug. 21 at Citi Field. Heyward now wears a protective flap attached to his helmet.
Brad Penner/USA TODAY Sports
Jason Heyward's last visit to Citi Field resulted in a broken jaw via an errant fastball from Jon Niese.
This season, Heyward is only 1-for-18 against left-handed pitching. The hit came on April 13 with a double against Washington's Gio Gonzalez.
Heyward remains in the leadoff spot despite hitting .136 overall after an 0-for-4 performance Thursday at Philadelphia that included a pair of line-drive outs. Three of his eight hits on the season came against Zack Wheeler on April 9.
• Closer Craig Kimbrel experienced shoulder soreness during an appearance Saturday and has not appeared in a game since. He threw a 15-pitch bullpen session Wednesday and "felt great," manager Fredi Gonzalez told The Atlanta Journal-Constitution. Right-hander David Carpenter converted Monday's save in Philadelphia. Carpenter had a 1.78 ERA in 2013.
• Shortstop Andrelton Simmons struck out for the first time this season Thursday. The strikeout, against Philadelphia's A.J. Burnett, came in Simmons' 48th plate appearance this season. With Simmons no longer K-less, St. Louis' Shane Robinson has the most plate appearances this season of any MLB player with no strikeouts -- a measly 10.
• Evan Gattis is hitting .588 (10-for-17) with three homers, six RBIs and a 1.765 OPS in his past four games. With Brian McCann's defection to the Yankees, Gattis exclusively has caught this season. Gattis started 47 games in left field and four games at first base in 2013.
• Left fielder Justin Upton is the reigning NL Player of the Week. He had four homers during that period, including a two-homer game against Jenrry Mejia.
• Braves starting pitchers have an MLB-best 1.58 ERA this season. Oakland starters rank second at 2.48.
• Ervin Santana threw 20 straight strikes to open his Braves debut, against the Mets at Turner Field. He then limited the Phillies to one run on four hits while matching a career high with 11 strikeouts on Monday. Santana's 0.64 ERA ranks second in the National League.
Santana signed for one year, $14.1 million on March 12 after Kris Medlen and Brandon Beachy both suffered spring-training elbow injuries and ultimately required Tommy John surgery.
• Aaron Harang, who finished last season with the Mets, has the third-best ERA in the NL, at 0.96. The Braves unexpectedly dumped Freddy Garcia on March 24 and signed the 35-year-old Harang for a rotation spot. Harang took a no-hit bid into the seventh inning in Milwaukee in his Braves debut. Harang had been released by the Cleveland Indians late in spring training.
• Ex-Mets reliever Pedro Beato, claimed off waivers by the Braves on April 2, was demoted to Triple-A Gwinnett six days later, during the series the Mets took two of three at Turner Field.
• Left-hander Mike Minor, on the DL with shoulder tendinitis, should be activated next week, after one more rehab start. Right-hander Gavin Floyd, signed by the Braves in December after spending seven seasons with the Chicago White Sox, also is on a rehab assignment as he nears a return from Tommy John surgery.
• First baseman Freddie Freeman ranks fourth in the NL with a .389 batting average.