NEW YORK -- Bobby Abreu spent last season at home in Venezuela, out of baseball. Then, around the MLB All-Star break, he started training for the winter-ball season in his native country, trying to revive his career.
He certainly caught the eye of Mets hitting coach Dave Hudgens, who managed him with Caracas during the winter-ball season. Hudgens recommended the Mets sign Abreu, although Abreu instead selected the Philadelphia Phillies.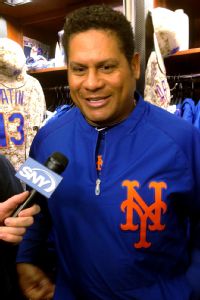 Adam Rubin
Bobby Abreu joined the Mets on Monday at Citi Field.
Despite hitting .244 with a .404 on-base percentage with Philadelphia in 17 Grapefruit League games, the 40-year-old Abreu was released. He then signed with the Mets on March 31, landed at Triple-A Las Vegas and parlayed that into a big-league promotion Monday.
Abreu replaced Andrew Brown, who was demoted to Vegas.
Terry Collins plans to use Abreu as a lefty pinch-hit threat for the bench, but will give him some time in the outfield as well in order to keep him sharp. When the Mets play in American League ballparks (next, May 12-13 in the Bronx), Abreu can serve as designated hitter.
"In order to stay sharp, he's got to get some at-bats," Collins said. "I'm going to try to pick some days to get him in the outfield."
Collins added that it made sense to demote the righty-hitting Brown over lefty-hitting Kirk Nieuwenhuis because the Mets needed a backup to Chris Young capable of playing center field while Juan Lagares is on the disabled list. Righty-hitting Josh Satin was insulated from demotion consideration because he can back up third base.
As for Abreu, he suggested it was not a slight originally choosing the Phillies over the Mets this past offseason.
"I was with Philadelphia for nine years, pretty much," said Abreu, who played for the Phillies from 1998 through a 2006 trading-deadline deal to the Yankees. "That was pretty much what it was. Now I'm here with the Mets."
He had no assurances when he played winter ball that he would get back to the big leagues. Abreu last played in the majors with 2012 with the Dodgers. But he batted .322 (58-for-180) with 10 doubles, three homers and 28 RBIs in 50 games for Caracas in Venezuela and opened eyes. The Mets believe Abreu's selectivity at the plate matches their philosophy well.
"I worked a lot on my mechanics and my approach at the plate," Abreu said. "I was watching a lot of video to see what I was doing wrong. My swing is quick right now, especially with the balls inside. Playing winter ball helped me a lot just to get back on track. ... I was working hard over there and I was playing pretty much every day, to show and prove that at least I could have another opportunity. That's what I have right now."