Al Behrman/Associated Press
The Mets face Adam Wainwright on Tuesday night at Citi Field.NEW YORK
FIRST PITCH: The Mets moved back above .500 with a win against the St. Louis Cardinals on Monday night, but Terry Collins knows the Amazin's have a tough task ahead the remainder of the series.
Adam Wainwright (of curveball-to-Carlos Beltran fame) opposes Dillon Gee on Tuesday at 7:10 p.m. at Citi Field. The Mets then face Michael Wacha and Lance Lynn the final two games of the series.
Wainwright actually is 2-4 with a 6.02 ERA in eight career regular-season appearances (six starts) against the Mets. Still, he is coming off a two-hit shutout of the Washington Nationals and arrives with a 1.80 ERA in 2014.
"We've got our hands full the next three nights," Collins said. "We've got Adam. I mean, there's nights he could be as good as there is in baseball. Lance Lynn is throwing the ball very, very well. Michael Wacha showed what he could do last year in the World Series."
Tuesday's news reports:
• Jenrry Mejia tossed 6 2/3 scoreless innings to shave his ERA to 1.99 as the camouflage-jersey-wearing Mets blanked the Cardinals, 2-0, Monday. Newly installed closer Kyle Farnsworth notched his first save as a Met, although looked to be nursing his forearm in the clubhouse postgame.
Curtis Granderson struck out three times while upping his hitless streak to 19 at-bats -- two shy of matching his career high. Ruben Tejada made a pair of diving stops up the middle. David Wright extended his hitting streak to 12 games with a broken-bat RBI single in the third that opened the scoring.
Read game recaps in the St. Louis Post-Dispatch, Post, Daily News, Times, Star-Ledger, Record, Newsday and at MLB.com.
• Bobby Abreu joined the Mets on Monday, with Andrew Brown demoted to clear the roster spot. Collins said he expects Abreu to see some action in the outfield, so that the 40-year-old Venezuelan can stay sharp for pinch-hitting duty.
"He fits right into our approach," hitting coach Dave Hudgens, who managed Abreu during the winter-ball season in Venezuela, told Marc Carig in Newsday. "He doesn't go out of the strike zone very often. He tries to have a quality at-bat. I thought he'd be good off the bench. He's so experienced."
Read more in the Daily News, Record, Star-Ledger and at MLB.com.
• Amateur scouts speculate that the player to be named in the Ike Davis trade with the Pittsburgh Pirates may be right-hander Neil Kozikowski, whom the Mets heavily scouted before the draft, the Daily News' John Harper tweets. Kozikowski, 18, was an eighth-round pick out of Avon Old Farms School in Connecticut in 2013.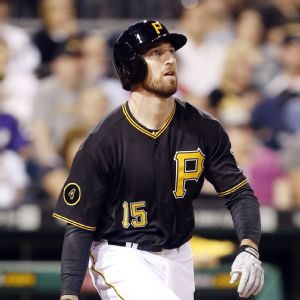 Charles LeClaire/USA TODAY Sports
Ike Davis belted a broken-bat grand slam Monday for the Pirates.
Davis, meanwhile, on Monday connected on a broken-bat grand slam for his first homer with the Pittsburgh Pirates.
Sandy Alderson told Mike Vorkunov in the Star-Ledger the Mets got roughly the same return in a trade as they would have if they had dealt Davis during the offseason.
"We got close to spring training and decided to back off because it was a close call between Ike and Lucas [Duda]," Alderson told Vorkunov. "They both got hurt in spring training, so there wasn't really an opportunity for one to separate from the other. We got into the first part of the season and got another look. It sort of reconfirmed what we had originally thought several months ago -- probably [we] would try to move Ike and keep Duda. There wasn't any reason to continue the competition or the tension."
• Alderson told reporters during an appearance at VA New York Harbor Healthcare Hospital on Monday that free-agent reliever Joel Hanrahan has "definitely made progress" as he nears completion of his rehab from Tommy John surgery. Still, the Post's Mike Puma tweets that the Mets have not internally discussed whether to make an offer -- although they are "interested." A team official tells Puma that Hanrahan likely would not be ready to pitch in the big leagues until mid-June.
The Mets, along with other teams, watched Hanrahan work out last week.
"The bullpen has been an issue for us a while," Alderson told reporters. "He's out there and is available, so why shouldn't we see how he's progressing?"
Read more in the Post and Newsday.
• Columnist John Harper in the Daily News advocates inserting prospects Rafael Montero and Jacob deGrom, starters in Triple-A, into the big-league bullpen. Writes Harper:
These Cardinals, who have become the model organization in baseball, are proof that you can break in talented young starters as relievers and have great success that way.
It's fair to say that Adam Wainwright, the Cardinals' ace, has done all right since breaking in as a reliever in 2006, when, of course, his famous strike-three curveball to Carlos Beltran put his team into the World Series.
The Cardinals are doing the same now with the likes of Trevor Rosenthal and Carlos Martinez, both highly touted starters in the minors for whom there is no room at the moment in the star-studded rotation.
• Zach Lutz departed after the first inning with cramping and Eric Campbell blasted a go-ahead two-run homer as Las Vegas beat El Paso, 5-4. Portland turned a first-inning triple play in a 7-4 win against Binghamton. St. Lucie benefited from consecutive bases-loaded walks to Brandon Nimmo and T.J. Rivera and beat Palm Beach, 5-4. Savannah's Northeast tour began with a 10-5 rout against Delmarva as Jeff McNeil, Jared King and Stefan Sabol homered. Read the full minor-league recap here.
• The Mets' payroll is down to about $86 million with the trade of Davis.
• Jared Diamond in the Journal discusses a pair of replay-review kinks that affected the Mets.
• Critic Bob Raissman in the Daily News suggests SNY's analysts are becoming more critical of Collins.
• From the bloggers … Blogging Mets writes about the enigma that is Eric Young Jr.
BIRTHDAYS: No one to play in a game for the Mets was born on this date, but Jack Nicholson, Kaka and Terry Francona celebrate birthdays.
TWEET OF THE DAY:
What's the over/under on how many times SNY references the Wainwright K of Beltran in 2006? #mets #blamebeltran

— Ethan Greenberg (@TheEman22) April 22, 2014
YOU'RE UP: Will the Mets win this series from the Cardinals?