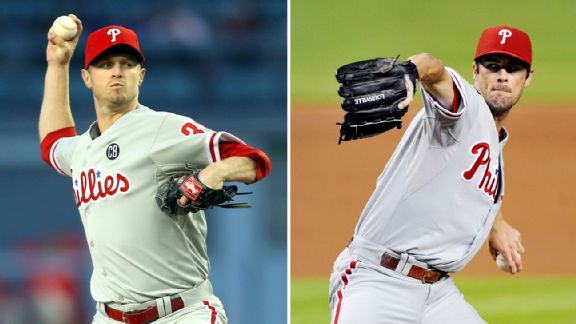 Getty Images
The Mets face Kyle Kendrick in Game 2 of the series, after Cole Hamels in the opener.METS (14-11, second place/NL East) at PHILADELPHIA PHILLIES (13-12, fourth place/NL East)
Tuesday: LHP Jonathon Niese (1-2, 2.45) vs. LHP Cole Hamels (0-1, 3.00), 7:05 p.m. ET
Wednesday: RHP Bartolo Colon (2-3, 4.50) vs. RHP Kyle Kendrick (0-2, 3.52), 7:05 p.m. ET
Phillies short hops
• Cole Hamels made his season debut Wednesday. He allowed two runs on six hits in six innings while tossing 86 pitches at Dodger Stadium. He had opened the season on the disabled list with biceps tendinitis. Hamels averaged 91.4 mph with his fastball, consistent with last year's velocity. He is 7-13 with a 4.44 ERA in 26 career starts against the Mets.
• Ex-Met Marlon Byrd signed a two-year, $16 million deal on Nov. 12 to play right field. He is hitting .269 with two homers and 16 RBIs through 93 at-bats.
• Chase Utley ranks second in the NL in batting average at .360, trailing only Colorado's Charlie Blackmon (.402). Utley became the first Phillie since Von Hayes in 1989 to produce 20 hits in his first 40 at-bats of a season.
Charlie Neibergall/Associated Press
The Phillies are no longer the team to beat, but Jimmy Rollins remains the shortstop.
Jimmy Rollins and Utley have started 1,090 games together as a double-play combination, the most among active shortstop/second-base pairings. Similarly, Utley and Ryan Howard are the active leaders in games started alongside each other at second and first base, at 965.
Rollins, historically a leadoff man, has been a fixture in the No. 2 hole this season, with center fielder Ben Revere leading off. Howard largely remains the cleanup hitter, although he was placed No. 5 a couple of times during the opening week against left-handed pitching.
Rollins briefly clashed with manager Ryne Sandberg during spring training, when Rollins was held out of games for three days over apparent manager concerns about his "dedication," to use the Philadelphia Inquirer's term.
• After batting .204 with no RBIs in his first 14 games, catcher Carlos Ruiz has been on a tear. Ruiz enters the Mets series hitting .500 (11-for-22) with six extra-base hits, seven RBIs and eight runs scored in six games. Ruiz signed a three-year, $26 million deal on Nov. 18 to remain a Phillie after receiving strong interest from the Boston Red Sox.
• Closer Jonathan Papelbon has made 10 straight scoreless relief appearances and is 8-for-8 in saves during that span.
Overall, though, the Phillies have an NL-worst 5.14 bullpen ERA. Already, three members of the Opening Day bullpen have been demoted to Triple-A Lehigh Valley: Justin De Fratus (7.20 ERA), Brad Lincoln (11.57) and B.J. Rosenberg (7.11).
Now active with the big-league club: Mike Adams, Shawn Camp and Jeff Manship. Adams opened the season on the disabled list still recovering from shoulder surgery last July to repair his right labrum and rotator cuff. Camp and Manship (who has a career 6.44 ERA) were signed as minor-league free agents during the offseason.
• Left fielder Domonic Brown is hitting .435 (10-for-23) with a homer, five RBIs and two walks against left-handed pitching this season.
• Lefty hitters are 3-for-their-last-30 against left-handed reliever Antonio Bastardo since last June 27.
• A.J. Burnett, who will not pitch in the Mets series, has a 0.83 ERA in three starts since learning he has a hernia, which he will wait until after the season to have surgically repaired.
• Third baseman Cody Asche, 23, went 3-for-4 with a homer on Opening Day. He since is hitting .173 (9-for-52) with no homers and four RBIs in 20 games (14 starts). Now, Asche has only started two of the Phillies' past six games. Freddy Galvis has started three games and Jayson Nix once at third base during that span.
• Galvis dealt with a MRSA infection late in spring training. He required hospitalization to treat the staph infection in his leg.