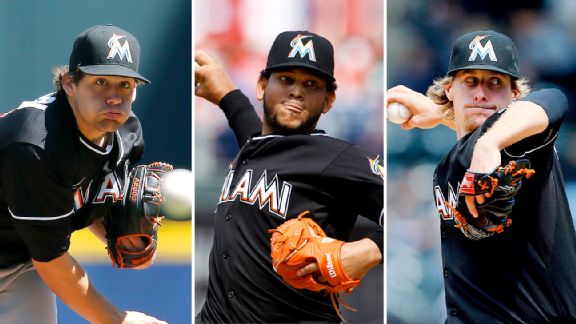 Getty Images/Associated Press
The Met face Nate Eovaldi, Henderson Alvarez and Tom Koehler during a three-game series at Marlins Park.METS (16-14, third place/NL East) at MIAMI MARLINS (16-15, fourth place/NL East)
Monday: LHP Jonathon Niese (2-2, 2.20) vs. RHP Nate Eovaldi (2-1, 2.58), 7:10 p.m. ET
Tuesday: RHP Bartolo Colon (2-4, 5.65) vs. RHP Henderson Alvarez (1-2, 3.28), 7:10 p.m. ET
Wednesday: RHP Zack Wheeler (1-3, 5.13) vs. RHP Tom Koehler (3-2, 2.41), 12:40 p.m. ET
Marlins short hops
• Giancarlo Stanton went deep twice Sunday, giving him National League leads with 10 homers and 36 RBIs. Stanton's 31 RBIs in March/April set the franchise record, passing Moises Alou (30, in April 1997).
Mike Ehrmann/Getty Images
Giancarlo Stanton leads the NL in homers and RBIs.
• The Marlins improved to an MLB-best 14-5 at home after winning a series from the Los Angeles Dodgers on Sunday. Miami has won six of seven home series, with the lone loss coming to the Washington Nationals (April 14-16).
Miami has 21 homers in 19 home games. They had 36 long balls during the entire 2013 season at Marlins Park. Miami is an MLB-worst 2-10 on the road.
The Braves suspected the Marlins were somehow cheating during a recent series, but could not prove it. Wrote Carroll Rogers in The Atlanta Journal-Constitution:
[Braves manager Fredi] Gonzalez said he changed signs five times during the course of [Aaron] Harang's outing and went to multiple signs even with no runners on base. The hits kept coming regardless.
Gonzalez said he wondered if [catcher Evan] Gattis was giving away signs, but then figured that wouldn't account for the disparity in the Marlins home/road splits in general. Entering play Thursday, the Marlins were hitting .307 while scoring 6.3 runs per game at Marlins Park. They were hitting .215 with 2.7 runs per game on the road.
"Yeah, you have this conspiracy theory, but at the end, we came up with nothing," Gonzalez said. "It wasn't like we saw a guy with the (binoculars), like Mick Billmeyer (former Phillies bullpen coach) in Colorado. At the end of the day, they didn't miss the pitches. They were right there."
Rafael Furcal, who signed a one-year, $3.5 million contract on Dec. 5 after missing all of last season, remains on the disabled list with the Marlins. The 36-year-old Furcal departed a rehab game Friday with Double-A Jacksonville with a groin issue. He originally landed on the DL to open the season with a left hamstring strain. Adeiny Hechavarria has started every game at shortstop for Miami this season.
• Stony Brook University product Tom Koehler, who struggled against the Mets at Citi Field (4 ER in 5 IP), tossed seven scoreless innings against the Dodgers on Friday, allowing only three hits.
• Closer Steve Cishek suffered a blown save at Citi Field on April 25, which snapped his streak of successful save conversions at 33, a Marlins franchise record.
• Center fielder Marcell Ozuna is hitting .395 (17-for-43) in 10 career games against the Mets.
• Third baseman Casey McGehee has 20 RBIs this season, the most in the majors without a home run.
• Nate Eovaldi's fastball has averaged 96.0 mph this season. Only Kansas City's Yordano Ventura (96.7 mph) has averaged more.
• Greg Dobbs was designated for assignment last Tuesday, clearing a spot for Ed Lucas, who returned from the disabled list. Dobbs had been 1-for-13 as a lefty pinch hitter. He had signed a $1.7 million extension for 2014.
• Right-hander Jacob Turner returned from the disabled list Saturday and entered the rotation, pushing Kevin Slowey to the bullpen.
• Former Mets farmhand Alonzo Harris, who signed with the Marlins at the end of spring training after being released by the Mets, again has been released. Harris hit .094 (3-for-32) at Class A Jupiter.