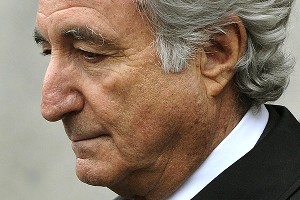 Timothy A. Clary/AFP/Getty Images
Bernard Madoff
MIAMI -- The trustee who is recovering money for victims of Bernard Madoff's Ponzi scheme announced Monday his fourth round of distributions of recovered funds.
And that helps the Mets' owners, the Wilpon family.
Eligible victims of the Ponzi scheme now have recovered 46.059 cents for every dollar of principal they lost in the Madoff affair.
As part of the Wilpons' settlement with the trustee, the sides stipulated that the Wilpons lost $178 million in certain Madoff funds, while making $162 million from other funds.
The Wilpons, like other victims, can deduct the 46.059 cents per dollar from their lost funds from the $162 million eventually owed to the trustee.
Here's the math:
$162 million owed, minus 46.059 percent of $178 million lost, yields the actual payback to the trustee.
So the Wilpon family, businesses and charities right now would owe the trustee $80,014,980 -- divided into two installments, and payable in 2016 and 2017.
That obligation should further decrease as the trustee recovers more funds for all victims.