MIAMI -- After the Mets were shut out in consecutive games at Marlins Park to conclude their road trip, upping their scoreless streak to 23 innings, hitting coach Dave Hudgens cited a handful of factors for the team's offensive woes: Miami's pitching, spacious Marlins Park and his own team's shortcomings.
The Mets' scoreless streak is their longest since going 24 innings without a run from July 15-17, 2010, which came against the San Francisco Giants. The Mets are hitting a collective .225 this season, with a .300 on-base percentage and .332 slugging percentage.
"It's a whole different environment in Colorado than it is here," Hudgens said, contrasting the Mets' 22 runs in four games at Coors Field versus their three runs in three games at Marlins Park. "Not even the ballpark, but the pitching staffs are a little bit different. We squared some balls up. We just have to keep working through it, trust the process and keep working. There's no real secrets in it. We've just got to keep pushing forward. We hit some balls hard today, squared some balls up. Their pitching is really good.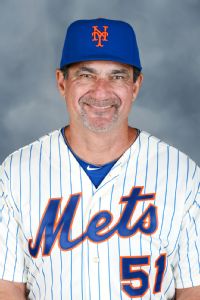 Courtesy of New York Mets
Hitting coach Dave Hudgens"So this ballpark, their pitching and we're not locked in, that combination, they pretty much took care of us."
Hudgens added: "I'm not pleased with the results. I don't think anybody is pleased with the results. But we're doing everything we've always done as far as getting ready, routines, trying to make adjustments. I'm pleased with how the guys are working and going about their business. Most definitely."
As for individual players, Hudgens believes David Wright -- who has not homered since Opening Day -- will find his power. Wright is hitting .277 but has only a .350 slugging percentage. Entering this season, Wright had a career .506 slugging percentage.
"He's hit some balls at Citi that would have gone [out] anywhere else, I think," Hudgens said. "It's just one of those things. I think that's why you play the game. You play 160-something games, and you just keep going and you don't panic. You just keep working. You don't try to do different things or new things or try to do more. I think that's when you run into problems."
On Ruben Tejada, who is hitting .183, Hudgens said: "I just think he's trying a little bit too hard. He's swinging at some very marginal pitches. Yesterday he swung at two pitches that were up and in and hit ground balls. We're kind of searching, wanting to get hits, as opposed to having a good approach and getting a good ball to hit and don't try to force it. I think he's just trying to force it a little bit right now."
And on his 0-for-58 pitchers, the hitting coach said: "We definitely need to get better there. No question about it. We're going to try to hit on the field a little bit more [pregame]. We've got three guys that are pretty good hitters, and the other two guys haven't swung the bats very much throughout their careers [Bartolo Colon and Jenrry Mejia]. So that makes it a little more difficult. But Dillon [Gee] has squared up some balls. Jon [Niese] will take his walks. [Zack] Wheeler is a good athlete. And he puts the ball in play. That's definitely one thing we're definitely going to need to improve on. Otherwise, we're playing with eight hitters."