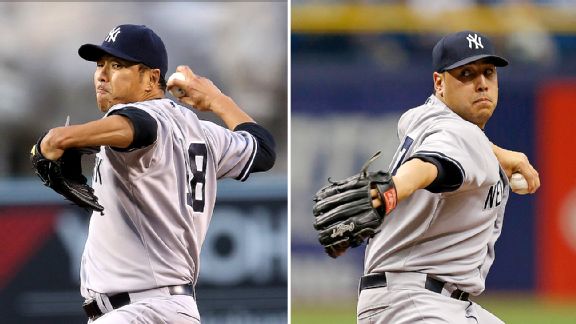 Getty Images
The Mets are due to face Hiroki Kuroda and Vidal Nuno in the Bronx.NEW YORK
FIRST PITCH: Bring on the Yankees! (And the outrage over what gift the Mets will give retiring Derek Jeter!)
After halting their five-game losing streak with a dramatic win Sunday against the Philadelphia Phillies, the "True New Yorker"-cheered Mets face their Bronx rivals for the next four games.
First up are two games at Yankee Stadium. Then the site shifts to Citi Field.
Monday in the Bronx, ex-Yankee Bartolo Colon (2-5, 5.36 ERA) opposes right-hander Hiroki Kuroda (2-3, 4.43).
The Mets swept the four games from the Yankees in 2013, but are 40-53 against the Bombers lifetime in the regular season.
Monday's news reports:
• Down three runs in the bottom of the ninth, the Mets ultimately rallied for a 5-4 win against the Phillies on Sunday at Citi Field. Ruben Tejada delivered a walk-off RBI single in the 11th with the bases loaded. Wilmer Flores had been unavailable Sunday because he and Gonzalez Germen were suffering from an illness that is making its way through the clubhouse. Eric Campbell notched his first major-league hit, in the fourth inning against Cole Hamels.
"The energy level is unbelievable," Terry Collins said postgame Sunday about the clubhouse atmosphere. "It hasn't been that high in a long time, even when we were playing good. They knew things hadn't been going good. We got big hits from some guys who have been struggling. That's all going to add up in the end. This win may really be the win that gets us going."
Said Jonathon Niese, who received a no-decision: "Obviously that was much-needed. … I was saying it during the game: This is going to be the game that turns this thing around. Hopefully that's the case and we can just build off of this one."
Still, Collins acknowledged the hitters need to perform better. Tejada snapped an 0-for-17 skid and Chris Young snapped an 0-for-18 skid during the game.
"We've got to get it going throughout the lineup," Collins said. "I said in spring training we can't survive with two or three guys hitting. We've got to spread it through the lineup for us to be really, really good. We've got to get it going. You look at the last six days and there's an area where we struggled really bad. Some of those guys have got to start producing. I'm not saying hit homers, but get some hits."
Columnist David Lennon in Newsday suggests Sunday's win will help the Mets regain some self-esteem. Columnist Bill Madden in the Daily News revisits the Sunday comeback.
Read game recaps in the Philadelphia Daily News, Post, Daily News, Newsday, Times, Star-Ledger, Record and at MLB.com.
• Collins said Jeurys Familia is "real close" to taking over the closer's role. Read more in the Daily News.
• Sandy Alderson refused to speak to the media Sunday about Jenrry Mejia's status for Wednesday's start or any other topic. Read more in the Star-Ledger and Newsday.
• Jeter, entering his final Subway Series, is nostalgic, writes George King in the Post. Read more in the Daily News.
• Collins suggested suddenly buried Eric Young Jr. merits more playing time after going 3-for-6 with two runs scored Sunday.
• Anthony McCarron in the Daily News notes E.Y. Jr. and now-Yankee Jacoby Ellsbury led their leagues in steals last season.
• CC Sabathia, who had been due to face the Mets on Thursday, instead landed on the disabled list. Alfredo Aceves is expected to make the start in Sabathia's place.
• Kevin Plawecki threw out three would-be base stealers and Tyler Pill won for the first time in more than a year as Binghamton beat Harrisburg, 2-1. Read the full minor-league recap here.
• Mets pitchers are 0-for-63 at the plate this season. Jay Schreiber in the Times suggests they channel their inner Dae-Sung Koo during the Subway Series. Koo doubled against Randy Johnson and scored -- with a weighted ball in his jacket pocket -- at Shea Stadium on May 21, 2005.
• Tim Teufel's son Shawn, a former Mets farmhand, will pitch for the independent Rockland Boulders.
• Daniel Barbarisi in the Journal previews the Subway Series.
• From the bloggers … Blogging Mets thinks the fact that Mets pitchers have not yet gotten a hit is a non-story. … NY Mets Life examines if Terry Collins is the right man for the job.
BIRTHDAYS: Hall of Famer Yogi Berra, who finished his playing career with the club and also managed them from 1972 through '75, turns 89. ... Mark Clark is 46. ... Jack Egbert is 31.
TWEETS OF THE DAY:
Good for Ruben Tejada. He was crestfallen Wednesday in Miami when he was told he'd be benched. Everyone deserves a moment. #Mets

— Mike Vaccaro (@MikeVacc) May 11, 2014
YOU'RE UP: Who will win the Subway Series?