NEW YORK
FIRST PITCH: After getting shut out in back-to-back games at home to split the Subway Series with the Yankees and drop two games under .500, the Mets (19-21) play a weekend series in D.C. against the beat-up Washington Nationals.
Bryce Harper, Ryan Zimmerman and Adam LaRoche all are on the disabled list for the Nats.
Jonathon Niese (2-2, 2.17 ERA) opposes right-hander Tanner Roark (2-1, 3.65) in Friday's 7:05 p.m. series opener.
The Mets have not been shut out in three straight games since July 25-27, 1992.
Friday's news reports:
Kathy Willens/Associated Press
Alfonso Soriano chats with third-base coach Rob Thomson after producing an RBI double.
• For the first time in Subway Series history, the game ended with a 1-0 score Thursday. The lone run came on Alfonso Soriano's two-out double in the seventh against Jacob deGrom, who had a strong major-league debut despite getting charged with the loss. David Wright's failure to turn an inning-ending double play preceded Soriano's shot to the left-center gap. The Mets have now been held scoreless for 20 innings. DeGrom did have a single in his first big-league plate appearance, snapping Mets pitchers' 0-for-64 drought to open the season.
Read game recaps in the Post, Daily News, Newsday, Star-Ledger, Record, Times and at MLB.com.
• Travis d'Arnaud landed on the seven-day concussion DL on Thursday. He will be eligible to return Wednesday. Read more in the Post, Daily News, Journal, Star-Ledger, Record and at MLB.com.
• Josh Edgin joined the Mets on Thursday, giving the club a second left-handed reliever to complement Scott Rice. Edgin took the roster spot formerly occupied by Kyle Farnsworth, who elected free agency after being dropped from the big-league roster. Sandy Alderson described cutting Farnsworth from the Mets as a combination of an economic decision and pitching evaluation.
• Jeff Wilpon indicated it is unlikely the Mets further reduce Citi Field's dimensions, but he did not completely rule it out, columnist John Harper writes in the Daily News. "I'm not saying we wouldn't," Wilpon told Harper, "but I don't see any reason why we would." Writes Harper:
Wilpon said that if GM Sandy Alderson "brings it up'' as something he thinks could benefit the Mets, he'd consider it. He said that since the Mets brought the fences in before the 2012 season, Citi Field has played "average" with respect to home runs in other ballparks in the majors.
Since then, he believes it has played much as Shea Stadium did, but acknowledged that right-center is the one area where it remains significantly more difficult to hit home runs.
"There was more of a wind-tunnel effect to right-center at Shea,'' Wilpon said. "If we were going to do anything here, that would be the spot."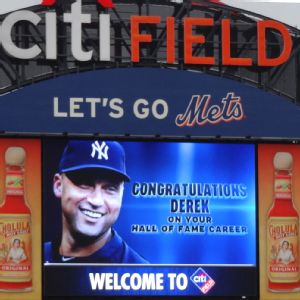 Adam Rubin
A pregame video tribute at Citi Field honored retiring Derek Jeter.
• Before his final game at Citi Field, the Mets presented retiring Derek Jeter with a subway-tile mosaic that included his No. 2 and donated $22,222.22 to the captain's Turn 2 Foundation. Read more in the Times, Post, Daily News, Record, Star-Ledger and at MLB.com.
• Terry Collins said the Mets ultimately view Jenrry Mejia as the team's closer, but he will not have the everyday role now because he is not in the mode of pitching every day. Read more in the Journal, Newsday and Star-Ledger.
• Matt Harvey excused himself as a friend became involved in a "melee" over a girl, Page 6 writes. Hours later, Harvey again was unapologetic Thursday about his love for New York nightlife. Harvey nonetheless told the Daily News there is "absolutely not" any ongoing battle with the team over his social habits. Meanwhile, in light of the suspected food poisoning with Lucas Duda, Harvey said: "Our kitchen was completely raided by the food safety people. But obviously we've been eating Shake Shack for a while," Foxsports.com writes. Read more from Harvey in the Post and Newsday.
• Read more on deGrom's debut in the Star-Ledger, Daily News and Newsday.
• Columnist Joel Sherman in the Post notes Sandy Alderson's prized bounties in trades -- Zack Wheeler, d'Arnaud and Noah Syndergaard -- all still have a lot to prove.
• Giancarlo Alvarado earned the win in his season debut and Cesar Puello drove in two runs as Las Vegas beat El Paso, 4-3. Cory Vaughn had a walk-off homer as Binghamton beat Altoona, 3-2. Read the full minor-league recap here.
• Keith Law's initial mock draft projects the Mets will take Hartford left-hander Sean Newcomb with the 10th overall pick.
• Columnist Phil Mushnick in the Post suggests the "bloom is off Bud's interleague rose."
BIRTHDAYS: Jerrod Riggan turns 40 today. ... Frank Seminara was born on this date in 1967.
TWEETS OF THE DAY:
@AdamRubinESPN Elias might be wrong on this one. I'm sure this happens at least once a week

— Randall (@RRMalvado) May 16, 2014
YOU'RE UP: Should Terry Collins start Juan Lagares on Friday at Nationals Park?