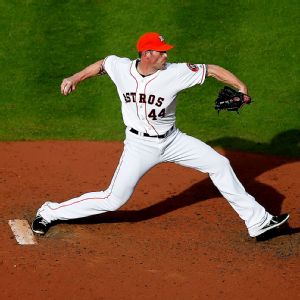 Scott Halleran/Getty Images
Kyle Farnsworth had a subpar Astros debut on Saturday.
WASHINGTON -- Entrusted with a late-inning role in his Houston Astros debut Saturday, Kyle Farnsworth had a rocky showing.
Farnsworth entered for the eighth inning with the Astros leading the Chicago White Sox by three runs.
The result: walk, double, sac fly, pop out, walk, single.
The ex-Met Farnsworth departed with the Astros' lead trimmed to one run and two on base. Darin Downs entered and bailed him out by retiring Conor Gillaspie on a foul out to third base.
Houston ultimately held on for the 6-5 win.