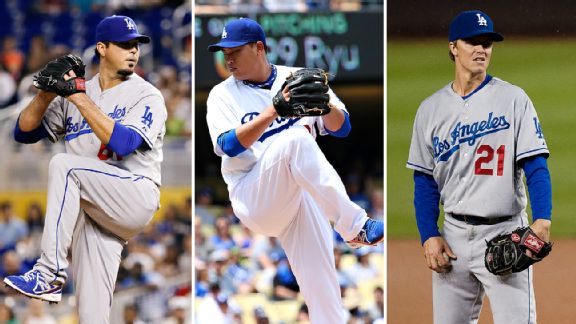 Getty Images
The Mets face Josh Beckett, Hyun-Jin Ryu and Zack Greinke at Citi Field.METS (20-23, fourth place/NL East) vs. LOS ANGELES DODGERS (23-22, third place/NL West)
Tuesday: RHP Rafael Montero (0-1, 4.50) vs. RHP Josh Beckett (1-1, 2.38), 7:10 p.m. ET
Wednesday: RHP Jacob deGrom (0-1, 1.29) vs. LHP Hyun-Jin Ryu (3-2, 3.00), 7:10 p.m. ET
Thursday: LHP Jonathon Niese (2-3, 2.54) vs. RHP Zack Greinke (7-1, 2.03), 7:10 p.m. ET
Dodgers short hops
• Josh Beckett on Tuesday earned his first win since Sept. 30, 2012. He had been 0-6 in 14 starts. Beckett did not pitch after mid-May last season and ultimately underwent surgery to remove a rib. That procedure attempted to alleviate thoracic outlet syndrome -- a pinched nerve affecting his right arm. For the season, the 34-year-old Beckett leads the L.A. rotation in WHIP (1.056) and hits per nine innings (6.3). Beckett is throwing his fastball a career-low 35.5 percent of the time. He now throws a curveball a career-high 30.1 percent.
• Hyun-Jin Ryu pitched a four-inning simulated game Friday and will reenter the rotation Wednesday, officially pushing originally listed starter Paul Maholm to the bullpen. That also could push reliever Chris Withrow to the minors despite a 2.77 ERA, because Withrow is not out of options. Ryu landed on the DL with left-shoulder inflammation.
Maholm (1-4, 5.40 ERA) enters the series off a start against the Miami Marlins in which he allowed 10 runs (five earned) on 11 hits and three walks in 3 2/3 innings. Reed Johnson homered against him on a 62 mph curveball, the slowest pitch resulting in a long ball in the majors since Jose Bautista sent a 61.7 mph offering also from Maholm over the outfield wall on May 28, 2013, according to ESPN Stats & Information. Maholm made three relief appearances in March/April, including during the club's season-opening trip to Australia.
Darron Cummings/Associated Press
Ex-Met Justin Turner will be at Citi Field with the Dodgers on Tuesday.
• Justin Turner, a surprise non-tender by the Mets on Dec. 2, returns to Citi Field as a visitor. Turner (.230, 0 HR, 5 RBIs in 74 at-bats) started five times at third base in a six-game stretch through Wednesday with Juan Uribe dealing with a mild hamstring strain.
• Dodgers outfielders Carl Crawford, Andre Ethier, Matt Kemp and Yasiel Puig have combined to hit .354 (79-for-223) with 15 doubles, 10 homers and 40 RBIs in May.
Puig lost a pair of lengthy streaks Sunday by going 0-for-3 and getting hit by a pitch on the back of the leg in his final plate appearance. He had produced an RBI in eight straight games, matching the franchise record previously accomplished four times, most recently by Adrian Beltre in 2004. He also lost a career-high 16-game hitting streak. Showing more strike-zone discipline than a year ago, Puig ranks seventh in the NL in batting average (.322) and tied for second in RBIs (35). The story about Puig's defection from Cuba, which includes black-market smugglers, was chronicled in April in ESPN The Magazine.
Ethier largely has been the odd man out. With Kemp resting Sunday, Ethier started for only the third time in L.A.'s past 10 games.
• Zack Greinke has allowed two earned runs or fewer in 21 straight starts. That matches Roger Clemens (1990-91) for the longest streak in the majors since earned runs became an official stat in 1913, according to the Elias Sports Bureau. Greinke ranks first in the NL in wins (seven) and third in ERA (2.03), trailing only Cincinnati's Johnny Cueto (1.25) and Chicago's Jeff Samardzija (1.62). Greinke has thrown six different types of pitches this season.
• Second baseman Dee Gordon leads the majors with 25 steals. That's 10 ahead of runner-up Eric Young Jr.
• Backup catcher Drew Butera, the son of former major-league catcher Sal Butera, originally was a Mets farmhand. Two years after he was drafted in the fifth round, Butera was sent to the Minnesota Twins with Dustin Martin on July 30, 2007 for Luis Castillo.
No. 1 catcher A.J. Ellis returned from the disabled list Wednesday after missing 34 games with a left-knee injury that resulted in April 8 arthroscopic surgery. Miguel Olivo was dispatched to Triple-A Albuquerque with Ellis' activation.
Butera, incidentally, has pitched twice for the Dodgers since Wednesday in lopsided losses. He tossed a 1-2-3 inning, topped out at 94 mph and capped the initial appearance with a strikeout of Miami's Marcell Ozuna. Three days later at Arizona, Butera surrendered a double and then two-run homer to Paul Goldschmidt in the eighth inning of an 18-7 loss. Butera subsequently recorded two outs, including an inning-ending strikeout of Martin Prado.
• Adrian Gonzalez's 10 homers are tied for third the NL, trailing only Troy Tulowitzki (13) and Giancarlo Stanton (12).
• Kenley Jansen has 12 saves in 14 chances and has struck out 31 batters in 18 2/3 innings.
• Brian Wilson, who looked so dominant in the season opener in Australia, has mightily struggled. Wilson, 32, has a 9.45 ERA and has allowed 18 hits and 13 walks (one intentional) in 13 1/3 innings. He already has allowed three homers -- a total he has not exceeded since serving up seven long balls in 62 1/3 innings in 2008 as San Francisco Giants closer.
• Clayton Kershaw has made two starts since returning from the DL, a trip required because of a strained muscle in his upper back. He'd like to forget the latter outing. Kershaw surrendered seven runs in 1 2/3 innings against the Diamondbacks on Saturday. He allowed four extra-base hits in the second inning alone -- matching the combined total from his three previous starts this season. Kershaw came into the outing with a 25-to-1 strikeout-to-walk ratio, but issued two free passes in a seven-run second inning.