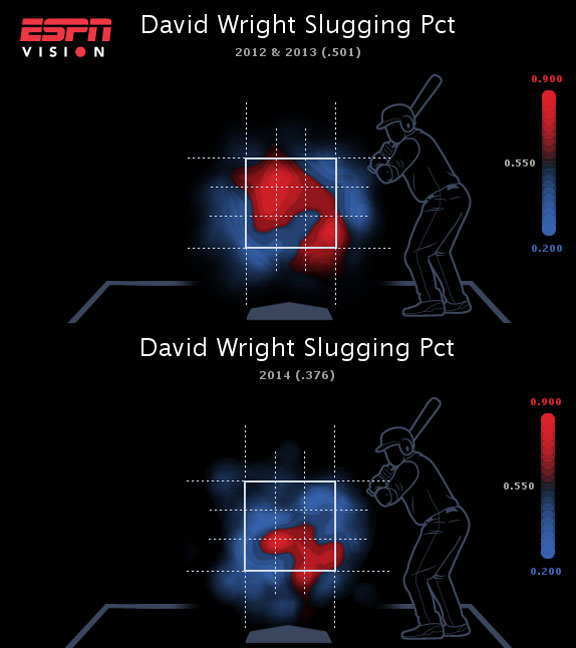 David Wright is in the midst of a power dip.When we wrote our "What's the best the Mets can be?" piece prior to the start of the season, the first point we made was that the Mets needed Wright to play like an MVP.
Wright has done that in one regard. He's gotten some big hits, batting .304 with runners in scoring position.
2014 STATS
GM

43

HR2

RBI25

R21

OBP.332

AVG

.287
But there are a couple of things in Wright's first 43 games that seem a bit out of whack with the precedent he's set in the past.
One has been on display more prominently in the last week or so. He's taken some odd swings, chasing pitches way out of the strike zone.
Wright's "chase rate" of 22 percent this season nearly matches what it was the past two seasons. But he's gone from missing on one-third of those swings to missing on almost half of them.
Wright seems to be pressing with two strikes, as he's come up empty more often than not. In 2012 and 2013, he'd miss on about 19 of every 100 two-strike swings. He's doing so about 30 times per 100 swings now.
The pitch location troubling Wright has been those on or just off the outside edge (he whiffed badly against Tyler Clipper in his final at-bat this weekend). He's missed on 43 of 103 swings (42 percent) against those pitches this season.
The previous two years, he'd be expected to miss on 28 of those swings.
David Wright K and BB totals
Wright seems to be aware of this. After Thursday's loss to the Yankees, he made this observation to reporters about his pitch-chasing:
"Obviously it works against you when you're up there trying too hard or you're trying to hit the ball extra hard," Wright said. "I felt that a little bit tonight, where I wanted to drive the ball and put some guys in scoring position.
"And instead of just being nice and easy and taking what they give you, you start over-swinging, you start not seeing the ball as well, and swinging at pitches outside the strike zone. You're not going to be successful at all when you do that."
When Wright has been making contact, there has been something missing: home runs. Wright has only two of them so far in 2014.
Citi Field has probably cost Wright a couple of home runs this season between its swirling winds and lengthy dimensions to right center, but there's more to it than that.
Though Wright has hit the ball with authority to center field and right-center, his pull power this season has been minimal.
Last season, Wright pulled 11 of his home runs. This season he's pulled one.
We utilize a hit tracking system in which video reviewers denote batted balls on a grid, from which we can get a rough estimate on batted-ball distance (not as accurate as hit F/X, but a reasonable guide).
In the previous four seasons, when Wright pulled a fly ball or line drive, he averaged 294, 294, 279 and 302 feet.
This season, he's averaging only 266 feet on those flies and liners.
That jibes with "hard-hit data" also compiled by video-review services (which rate batted balls as hard, medium or soft hit). When Wright has hit the ball this season, he's hit it hard only 21 percent of the time. Last season, he had a 28 percent hard-hit rate when making contact.
The two home runs are the fewest Wright has had through the Mets' first 43 games of any season.
And that's hurt his overall value. Both Baseball-Reference.com and Fangraphs.com have Wright's wins above replacement this season (0.1 and 0.4) far below the levels of the previous two seasons (in which he averaged 6.4 and 6.6 respectively). They actually have him just a hair above replacement level.
Granted, there's still three-quarters of the season remaining, but perhaps this is the first sign of Wright starting to age.
And that will make it a greater challenge for him to play like an MVP.