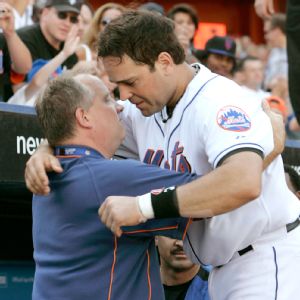 Kathy Willens/Associated Press
Former clubhouse manager Charlie Samuels, here pictured in 2005 with Mike Piazza, is pitching a book about the Mets, sources tell ESPNNewYork.com.
WASHINGTON -- If the Mets cringed at the contents of Mookie Wilson's book, they better brace themselves for this: Former clubhouse manager Charlie Samuels has been shopping a book to publishers, and it's sure to air some dirty laundry, multiple sources told ESPNNewYork.com.
It is unclear if the proposal has yet found a taker, but a publishing source confirmed it has been pitched.
Samuels would have intimate knowledge of behind-the-scenes happenings with the Mets over a more-than-two-decade span.
A team employee from 1976 until he was fired in 2010, Samuels was sentenced to five years of probation in April 2012 as part of a plea bargain after admitting to possessing $2.3 million worth of team memorabilia. He pleaded guilty to possessing stolen property and tax fraud and was banned from Mets facilities.
Friends say Samuels has struggled since his departure from the Mets, including a failed restaurant in Florida in which a business partner left him in a precarious financial predicament.