NEW YORK -- Although Matt Harvey indicated he wants to make five to seven starts this season, Sandy Alderson took a far more cautious approach as the ace rehabs from Oct. 22, 2013 Tommy John surgery.
Asked if returning to competitive pitching 10 months after the procedure is not prudent across the board, or whether it may be OK under some circumstances, Alderson said Tuesday afternoon: "Not being a medical doctor and not really faced with that decision previously, I'll reserve judgment. But the one thing we don't want to do is be put in a situation where someone -- Matt, or anyone else -- has a setback because we've pushed the natural recovery processes further than we should have."
If the Mets are out of the race, it would seem unwise to have Harvey return to major-league action this season, especially given his value to the organization.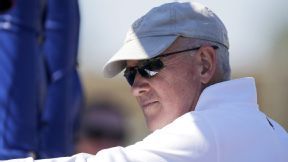 Jeff Roberson/Associated Press
Sandy Alderson did not endorse Matt Harvey wanting to return 10 months after Tommy John surgery.
On whether Harvey's competitive nature might be a concern because it could result in the ace doing too much too quickly, Alderson said: "I think that's a consideration. I wouldn't put it at the level of a concern at this point."
Alderson said there continues to be study about the optimal recovery time from Tommy John surgery before competitive action, but "I don't think anything has changed" regarding 12 months being advisable.
Said Alderson: "I know that MLB is now taking a much more serious and in-depth look at these injuries and what might be appropriate for recovery and prevention of a second Tommy John. But I think MLB is still in the early stages of developing that information. There is something called a medical advisory committee that exists at the major-league level. That committee has been meeting recently. And I know these types of elbow injuries have been on the agenda and that they've had several experts who have made presentations. The injury and the frequency that we've experienced here recently is getting a lot of attention at MLB, which is the level where the attention should be placed, because they have access to substantially more data than any one club would. I'm hopeful that will turn out to be useful."
Alderson accepted that, in a general sense, it does give pitchers peace of mind if they have pitched in the majors before heading into the offseason.
"I would subscribe to that notion as a general proposition," Alderson said. "As it relates to Tommy John surgery and whether it's appropriate given the time frame that [Harvey]'s experienced or another pitcher might have experienced, that's an open question."