NEW YORK -- So what's the problem with the New York Mets' performance at home this season? Ousted hitting coach Dave Hudgens says the fans are partly to blame. Or, more than partly. You be the judge: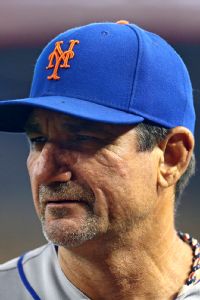 Mark J. Rebilas/USA TODAY Sports
Dave Hudgens criticized fans and SNY after his firing.
"I really just think guys tried too hard at home," Hudgens told MLB.com after his firing. "I think the fans are really tough on the guys at home. How can you boo Curtis Granderson? They have no idea how hard this guy works and how he goes about doing his business, doing his job. He gets off to a slow start and they're booing him? Come on. It's tougher at home to play than it is on the road, there's no doubt about it. And they're trying really hard at home.
"You can see it in the statistics. The fly-ball rates went up, the swing-and-miss rates went up at home. I think we were first in the league in runs scored on the road, so I think guys were relaxed on the road. They could just go out and play the game, don't worry about anything. Then at home, they're trying to do so much. I've never seen that work out -- especially young players trying to do more than they should be doing. When you look at the numbers inside the numbers, and you see exit velocity rates going down at home, you see fly ball rates going up, you see swing-and-miss rates going up, you see chase rates going up a little bit -- although we're best in the league in not chasing pitches out of the zone -- I think those things, it just means guys trying to do too much, trying too hard."
Meanwhile, Hudgens told Newsday about the critical SNY booth: "I'm glad I don't have to listen to those guys anymore. I just shake my head at the old-school guys that have it all figured out. Go up there and swing the bat. Well what do you want to swing at? It just confounds me. It's just hilarious, really."