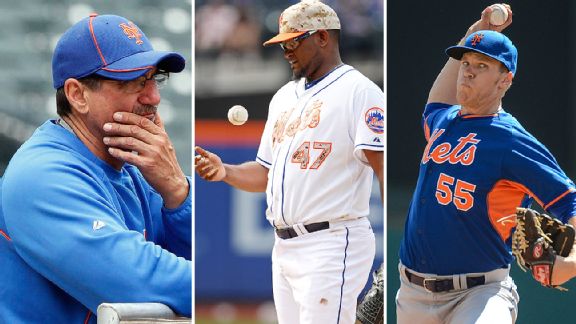 USA TODAY Sports
The Mets fired Dave Hudgens and released Jose Valverde late Monday, while Noah Syndergaard is headed to New York to get a forearm injury examined.NEW YORK
FIRST PITCH: No shortage of topics arose on Monday at Citi Field … and they mostly were negative.
On the day Ike Davis returned as a visitor, Dave Hudgens and Jose Valverde were shown the door. Also, Noah Syndergaard and Eric Young Jr. landed on disabled lists. And Jacob deGrom lifted his batting average to .800 but was deprived of his first major-league win.
What's on tap Tuesday?
On the field, the Mets play Game 2 against the Pittsburgh Pirates, with Jonathon Niese (3-3, 2.70 ERA) scheduled to oppose right-hander Edinson Volquez (2-4, 4.37) at 7:10 p.m.
Off the field, MRIs for Syndergaard and E.Y. Jr., apparently, as well as the debut of Lamar Johnson as hitting coach.
Stay tuned.
Tuesday's news reports:
• Hudgens and Valverde lost their jobs in the aftermath of Monday's defeat. Hudgens, who had been in his fourth season as hitting coach, will be replaced by Johnson, the organization's minor-league hitting coordinator for the past decade.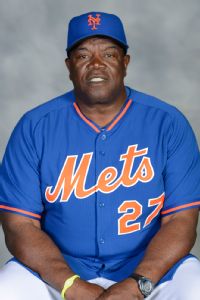 Courtesy of New York Mets
Lamar Johnson, who played first base for nine seasons in the majors, primarily with the White Sox, is the new hitting coach.
In interviews after his dismissal, Hudgens faulted Mets fans booing for the team's home struggles and complained about on-air critiques from SNY's popular broadcast team -- Gary Cohen, Keith Hernandez and Ron Darling.
Vic Black is due to rejoin the Mets to replace Valverde. Black has flown from Las Vegas to New York to El Paso and now back to New York in the past three days.
Read more on the Hudgens and Valverde ousters in the Post, Daily News, Times, Journal, Record, Newsday and at MLB.com.
Read Hudgens' pointed comments at MLB.com and in Newsday.
• Poised for his first win after tossing 6 2/3 scoreless innings and logging 122 pitches, deGrom instead was handed a no-decision when Scott Rice and Valverde failed to hold the lead. Valverde surrendered four runs over the final two innings in his last act as a Met. The Pirates ultimately beat the Mets, 5-3, on Memorial Day at Citi Field to drop the not-so-Amazin's to 7-17 in May.
Read game recaps in the Post, Star-Ledger and at MLB.com.
• Syndergaard is due to be examined in New York on Tuesday because of a flexor pronator strain in his right forearm. Although the Mets downplayed the severity, the injury can be a precursor to Tommy John surgery. Syndergaard tweeted that he should be fine.
"We're very concerned about it," Terry Collins said. "I know a lot of guys that go to the doctor and it's nothing. But I know some that go to the doctor and it's an issue. So anytime you're going in and the word 'elbow' shows up and you throw as hard as he does, it's a concern."
Read more in the Post, Daily News, Newsday, Times, Star-Ledger, Record and at MLB.com.
• Davis was greeted with polite applause in his first game back at Citi Field since the April 18 trade. He went 0-for-2 with a walk before being replaced by righty-hitting platoon mate Gaby Sanchez in the eighth.
"I didn't get booed as much as I thought [I would]," Davis told Zach Braziller in the Post. "There was a lot of cheering. So it was really nice."
Davis said pregame that one big difference between Pittsburgh and New York is he now does not get hitting tips from fans when he goes out for coffee in the morning.
Read more in the Star-Ledger.
• Travis d'Arnaud went 0-for-4 as the DH in his second rehab game with Binghamton as he returns from a concussion. D'Arnaud is due to catch Tuesday for the B-Mets. He could be activated from the disabled list as soon as Wednesday.
• E.Y. Jr. officially landed on the DL with a right hamstring injury on Monday morning. Matt den Dekker joined the club. Den Dekker struck out to end Monday's game after entering on a double-switch in the top of the ninth. E.Y. Jr. is due to get an MRI on Tuesday to learn the severity of his injury. Read more in the Star-Ledger.
• Collins suggested the Mets are being cautious with Dillon Gee, who did not feel comfortable getting on a mound Sunday because of a lingering issue with a strained lat muscle.
• Columnist Kevin Kernan in the Post said the heat is on Sandy Alderson. Writes Kernan:
The general manager has to look in the mirror and question his performance for his part in the Mets' terrible 7-17 May and overall 22-28 record. Owners don't fire themselves, and that is especially true of the Wilpons -- so progress must be shown, and quickly.
Alderson's promise of young arms must save games and jobs.
• Kirk Nieuwenhuis and Andrew Brown homered, but Las Vegas lost its sixth straight, 9-5 to Sacramento. Darin Gorski tossed a shutout in Binghamton's 5-0 win against New Britain. Kevin McGowan extended his streak without allowing an earned run to 33 2/3 innings as Savannah won a rain-shortened game against Augusta, 2-0. Read the full minor-league recap here.
• Amed Rosario, who signed with the Mets for $1.75 million, is headed to Savannah … for a short stay.
BIRTHDAYS: Todd Hundley, who slugged 41 homers in 1996 with the Mets, turns 45.
TWEETS OF THE DAY:
According to Dave Hudgens Mets fans have a -28 WAR this season. #Mets

— Joe Pontillo (@JoePontillo) May 27, 2014
YOU'RE UP: Can Lamar Johnson make a difference with the Mets' hitters?