NEW YORK -- Jeff McNeil grew up on a par-three golf course. As a high-school-age golfer, he qualified for the United States Junior Amateur -- "which is kind of like the U.S. Open for anyone under 18," he noted. He remains a scratch golfer.
So McNeil was looking forward to golfing in college, until his athletic trajectory changed the summer before his senior year of high school in California. In fact, before ever playing in a high school game, McNeil received an offer to play Division I baseball.
McNeil had decided to play scout baseball during the summer before his senior year of high school on a team with his younger brother Ryan, who was entering his sophomore year.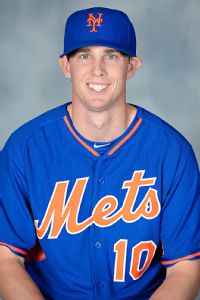 Courtesy of New York Mets
Jeff McNeil
"Just the way it worked out, I ended up getting seen by a scout from Cal State Northridge," McNeil said.
McNeil chose to play baseball over golf during his senior year. He graduated and began playing baseball at Long Beach State, because the Northridge coach was dismissed and he was let out of his commitment. McNeil hit .271 as a freshman and .258 as a sophomore in utility roles. He then hit .348 with a .398 on-base percentage his junior season with Long Beach State and was selected by the Mets in the 12th round last year.
Through 42 games with low-A Savannah this season, the 22-year-old McNeil is hitting .329 with two homers and 23 RBIs in 164 at-bats. He has a .403 on-base percentage. He regularly has played third base, after manning second base last year at short-season Kingsport following the draft.
"I was playing national golf tournaments and all that stuff," McNeil said. "I didn't really think anything of baseball. It's just funny how things work out like that and I started playing baseball again and ended up doing extremely well."
McNeil went homerless through three seasons in college and his first season as a pro. His Savannah teammates were aware. So they razzed him when he finally went deep for the first time since high school with two outs in the ninth inning on April 13 at Rome, Ga.
"I was a little bit in shock -- 'Hey, it went out,'" McNeil said. "I was pretty excited. My teammates gave me a hard time. They were aware. Two games earlier I hit one off the top of the wall.
"It's been a while. We play at one of the biggest fields in the nation in Long Beach, so I've hit some balls that should have gone out some places. It's real difficult to hit it out at Long Beach."
At Long Beach State, McNeil played a lot of second base and left field his first two seasons. His junior year he mostly played center field and right field. He also filled in at shortstop for an injured starter.
"At Long Beach, every game I didn't know where I was going to play," McNeil said.
Although two years younger, brother Ryan beat McNeil to professional baseball by a year. Ryan, a right-handed pitcher, was drafted in the third round by the Cubs in 2012. Ryan just passed the one-year anniversary of his May 17, 2013 Tommy John surgery. He is in the Cubs' extended-spring-training program right now and should break camp with a short-season team within weeks.
As for McNeil's golf game, he still has occasion to play, including with teammates during spring training. As a scratch golfer, he puts on a show.
"I've had some good rounds in spring training," he said.
Organization leaders
Average: T.J. Rivera, St. Lucie, .361; Andrew Brown, Vegas, .355; Eric Campbell, Vegas, .355; Matt Reynolds, Binghamton, .351; Brandon Nimmo, St. Lucie, .340; Kevin Plawecki, Binghamton, .336; Jeff McNeil, Savannah, .329; Dilson Herrera, St. Lucie, .323; Zach Lutz, Vegas, .317; Wilfredo Tovar, Binghamton, .313.
Homers: Andrew Brown, Vegas, 10; Taylor Teagarden, Vegas, 8; Matt Clark, Binghamton, 8; Allan Dykstra, Vegas, 8.
RBIs: Allan Dykstra, Vegas, 42; T.J. Rivera, St. Lucie, 42.
Steals: Jeff McNeil, Savannah, 12; Patrick Biondi, Savannah, 11; Dilson Herrera, St. Lucie, 11; Brandon Nimmo, St. Lucie, 8; Stefan Sabol, Savannah, 7.
ERA: Kevin McGowan, Savannah, 1.57; Steven Matz, St. Lucie, 1.95; Darin Gorski, Binghamton, 2.22; John Gant, Savannah, 2.49; Matt Koch, St. Lucie, 2.83; Ricky Knapp, Savannah, 3.12; Rafael Montero, Vegas, 3.67; Dana Eveland, Vegas, 3.91; Noah Syndergaard, Vegas, 4.02.
Wins: Matt Koch, St. Lucie, 6; Miller Diaz, Savannah, 5; John Gant, Savannah, 5; Noah Syndergaard, Vegas, 5.
Saves: Chasen Bradford, Binghamton, 10; Robert Coles, Savannah, 9; Vic Black, Vegas, 7; Jeff Walters, Vegas, 6; Randy Fontanez, St. Lucie, 6; Beck Wheeler, St. Lucie, 6.
Strikeouts: Dana Eveland, Vegas, 58; Noah Syndergaard, Vegas, 57; Darin Gorski, Binghamton, 54; Dario Alvarez, Savannah, 47; Steven Matz, St. Lucie, 47.
Short hops
• Shortstop Amed Rosario was slated to make his Savannah debut on Tuesday, but the game was washed away. The 18-year-old Rosario, who tore up extended spring training, is ticketed for Brooklyn, but is making a cameo in the South Atlantic League en route. He signed for $1.75 million out of the Dominican Republic, a franchise record for an international teenager.
• 2011 first-round pick Brandon Nimmo (.340, 4 HR, 23 RBIs, .468 OBP) departed Tuesday's St. Lucie game in the third inning with what the team labeled a sprained left ankle.
• With Jacob deGrom and Rafael Montero in the majors, Noah Syndergaard now sidelined at least briefly with a forearm issue that requires shoulder strengthening and Cory Mazzoni out since spring training with a lat-muscle issue, the Las Vegas rotation is in flux. After tossing a nine-inning shutout with Binghamton, left-hander Darin Gorski has been promoted to the 51s, swapping spots with Greg Peavey. Also in the rotation at the moment: Logan Verrett, Giancarlo Alvarado, Joel Carreno and Dana Eveland. Las Vegas (33-19) snapped a season-high six-game losing streak Tuesday.
• St. Lucie's Dilson Herrera, acquired from the Pirates last August with Vic Black, leads all of the minors with 71 hits. Teammate T.J. Rivera, a Bronx native, is runner-up with 70.
• Triple-A catcher Taylor Teagarden (.295, 8 HR, 19 RBIs, .411 OBP) has a June 15 out in his contract if he is not promoted to the majors by that date. The Padres recruited Teagarden heavily last offseason, so that may be an option if he declares free agency.
• Las Vegas outfielder Cesar Puello started Tuesday for the first time in five days. He has dealt with a little soreness, but was healthy enough to play. The decision to hold him out was made by manager Wally Backman, who preferred other outfield options. Although Puello is hitting .264 with one homer and 10 RBIs in 125 at-bats, a team insider said in explaining the playing time: "Kirk Nieuwenhuis, Matt den Dekker and Andrew Brown are better. Brandon Allen and Allan Dykstra are better. Puello stats don't even do justice to how bad he has been. Lots of broken bats. Lots of infield hits. His hits have been against bad pitchers. He is overmatched."
• Binghamton catcher Kevin Plawecki has been unstoppable this month. If you include his still-unofficial stats from Tuesday's 2-for-2, five-RBI performance in a game that was suspended in the second inning, the Purdue product is hitting .407 (35-for-86) with 10 doubles, five homers and 27 RBIs in May. A workhorse, he has played without a day off for 14 straight days (12 days of catching and two days at DH with Travis d'Arnaud rehabbing with the B-Mets -- albeit with two games off in the nightcap of doubleheaders).
• Left-hander Alex Panteliodis, a ninth-round pick from the University of Florida in 2011, was activated off the St. Lucie DL and earned a win over Clearwater in his first start of the season. He went 6 1/3 innings and allowed two runs.
• Before going hitless in three at-bats Tuesday, St. Lucie catcher Cam Maron had been hitting .429 in a seven-game span to lift his average to .281. The Hicksville, Long Island, native went 4-for-5 with four RBIs and was a home run short of the cycle Saturday.
• Left-handed reliever Chase Huchingson has looked rusty in two appearances since returning from a 50-game suspension for violations involving a drug of abuse. He surrendered three hits and two runs in an inning Thursday, then allowed a run in one inning Saturday.
• Right-hander Kevin McGowan, a 13th-round pick last year from Franklin Pierce University in New Hampshire, has tossed 33 2/3 consecutive innings without allowing an earned run with Savannah. Another lengthy streak ended this week with the Gnats. Virgin Islands native Akeel Morris allowed his first run Saturday after opening the season with 24 1/3 scoreless innings.