PHILADELPHIA -- Buddy Carlyle awoke Saturday at 3:45 a.m. MT in El Paso, Texas. He flew through Dallas to Philadelphia and arrived at Citizens Bank Park at 2:30 p.m. ET.
He eventually tossed three scoreless innings in his first major league game since 2011 and earned his first win in six years as the New York Mets beat the Philadelphia Phillies, 5-4, in 14 innings.
"Just getting here this time, this was a lot harder than the first time I had gotten to the major leagues," said the 36-year-old Carlyle, who made his major league debut 15 years ago with the San Diego Padres. "In 2009 I found out I was a Type 1 diabetic. I really haven't been back at any kind of level since.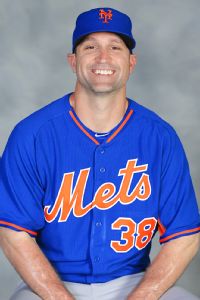 Courtesy of New York Mets
Buddy Carlyle
"It's been a long road, a lot of contemplating maybe retiring and stuff like that. It's very gratifying just to be here. As a reliever, you get wins -- a lot of times you're a vulture anyway. The win is kind of special too, but just to be able to contribute -- you feel like you can compete at this level again and give your team a chance to win and be a part of something -- it's kind of special."
Carlyle had tossed a scoreless inning for Triple-A Las Vegas on Friday night, too.
With the Mets intending to add a fresh arm, Dana Eveland, for Sunday's game in Philly, it's conceivable Carlyle could be out as quickly as he was added, despite his success. He last appeared in the majors in 2011, in a cameo with the New York Yankees. His last big-league win came in 2008 with the Atlanta Braves.
"I think every pitcher that pitched in that game today is probably exhausted, or more exhausted than I am," Carlyle said. "It's been a long time since I even pitched in a major league game. So I just feel fortunate that the Mets gave me an opportunity, first of all, to come to [minor-league] camp and, second of all, to be here pitching. I know everybody has been throwing a lot of innings. So you just come and try to do your part."
Carlyle said he purposely brought up his Type 1 diabetes during his postgame interview because he wants people to know you can achieve despite the issue. Two Mets players with Double-A Binghamton also have Type 1 diabetes: Cory Vaughn and Rylan Sandoval.
Vaughn wears an insulin pump in his back pocket and a catheter even while playing. Carlyle wore the pump for a couple of years, but reverted to self-administering injections in addition to regular blood-level testing, calling it a "lifestyle choice." He monitors his blood levels even while in the bullpen and consumes sugar and glucose as needed.
"It's just a lot of math," he said.
Said Mets manager Terry Collins about Carlyle blanking the Phillies from the 11th through the 13th innings: "I absolutely salute the job Buddy Carlyle did coming in here. He pitched last night, flew all day, got in here and gave us three innings we had to have."