PHILADELPHIA -- Matt den Dekker was Juan Lagares before Juan Lagares.
Given his first 2014 major league start on Monday, den Dekker displayed why as the New York Mets beat the Philadelphia Phillies, 11-2, at Citizens Bank Park.
The rookie center fielder took away two Phillies runs, reaching over the center-field wall to rob Ryan Howard of a homer in the second, then throwing out Reid Brignac at the plate on an ill-advised send by third-base coach Pete Mackanin an inning later.
Playing five straight days in a road city for the first time in franchise history, the Mets went 4-1 against the Phillies to move within a game of .500. The teams played a total of 57 innings. Add in two wins to close the last homestand against the Pittsburgh Pirates and the Mets are 6-1 since the firing of hitting coach Dave Hudgens and release of Jose Valverde. New York (28-29) moved into third place in the NL East for the first time since May 13.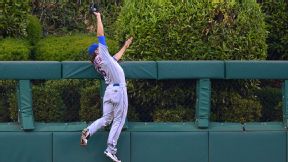 Drew Hallowell/Getty Images
Matt den Dekker takes away a would-be second-inning homer from Ryan Howard.
Bobby Abreu and Lucas Duda had consecutive one-out doubles in the second inning Monday as the Mets took a 1-0 lead against Roberto Hernandez. After inning-opening singles by den Dekker and Daniel Murphy in the sixth, David Wright produced a two-run double for a 3-0 lead. Later that inning, second baseman Chase Utley's error on a would-be inning-ending double play loaded the bases. Wilmer Flores then delivered a two-run double that snapped the Mets' 14 at-bat hitless streak with the bases loaded.
Flores' grand slam capped a six-run ninth. He finished with six RBIs, doubling his previous career high. The Mets went 3-for-4 with the bases loaded. Ike Davis had the Mets' other grand slam this season, on April 5 against Cincinnati.
Bartolo Colon, aided by den Dekker, took a scoreless effort into the bottom of the sixth. Howard then delivered an RBI groundout, snapping Colon's scoreless streak at 16⅓ innings.
The 26-year-old den Dekker had been the ballyhooed outfield defensive whiz in Mets camp in 2013, but he broke the wrist on his right, non-throwing hand in Grapefruit League play late that spring training and missed the first two months of the minor league season. When the opportunity for an in-season promotion arose, Lagares -- another human highlight film -- had leapfrogged den Dekker.
With the Mets having played consecutive 14-inning games, den Dekker actually had been demoted before Sunday's matinee to clear a roster spot for an extra arm. He never even started to pack for a scheduled 8:30 p.m. flight to Las Vegas, though. Once Lagares departed Sunday's game with an injury, den Dekker was told to sit tight in Philly. He officially was re-promoted to the Mets on Monday afternoon when Lagares was placed on the disabled list with a strained rib cage.
Colon, incidentally, now has been saved from serving up homers by both den Dekker and Lagares. Lagares took away a would-be homer from Jayson Werth in D.C. on May 17.
Mets manager Terry Collins indicated den Dekker will get first dibs at trying to claim the leadoff spot in Lagares' absence. He led off three different innings and finished 1-for-5.
Debutant: Left-hander Dana Eveland made his Mets debut in the eighth inning, inheriting a 5-1 lead and two baserunners from Colon with none out. He coaxed a fly out from Utley, struck out Howard and departed with righty-hitting Marlon Byrd next up. Jeurys Familia entered and uncorked a wild pitch on his first offering as the Phillies moved within three runs. Byrd then flied out.
Eveland, 30, last pitched in a major game on July 13, 2012, with the Baltimore Orioles. He spent last season in South Korea.
What's next: The Mets head to the Windy City. Zack Wheeler (2-5, 4.31 ERA) opposes Chicago Cubs right-hander Jake Arrieta (1-1, 3.20) in Tuesday's 8:05 p.m. ET series opener.