SAN FRANCISCO -- Mets VP Paul DePodesta and amateur scouting director Tommy Tanous addressed their Day 2 draft picks on Friday. Here's what they had to say:
Milton Ramos, SS, American Heritage (Fla.) HS, third round:
"Certainly he's known for defense. He's a lot stronger than people think. This is not a below-average bat by any means. I think sometimes when you talk about shortstops with superior gloves, people automatically think it's a non-offensive player. That's certainly not the case with Milton. Tremendous speed. Tremendous hands. He's going to be plenty strong enough to hit. So we're really excited about this type of player."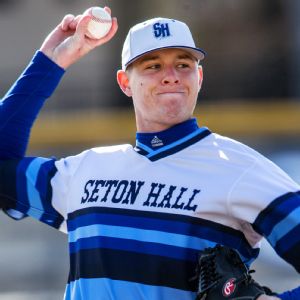 Courtesy of Seton Hall University
The Mets selected Seton Hall right-hander Josh Prevost in the fifth round.
Eudor Garcia, 3B, El Paso (Texas) CC, fourth round:
"We went and worked him out," Tanous said. "He has massive power. A left-handed hitter. Has absolutely destroyed the junior-college division that he's played in. Most valuable player. Player of the year. He's definitely an offensive player. We feel like he'll be fine at third base. But when you draft this type of guy, you take him for his bat."
Josh Prevost, RHP, Seton Hall, fifth round:
"He's a really interesting player -- a 6-8 pitcher from Seton Hall," Tanous said. "The biggest surprise when you see him pitch is his actual command and control of his pitches. He's a fastball-slider-changeup pitcher. We've had him up to 94 mph. He probably pitches anywhere between 90-93 mph. Supreme strike-thrower. Tremendous competitor. He has a lot of the things that we look for and still, as a college player, has some upside."
Tyler Moore, C, LSU , sixth round:
"A left-handed hitting catcher. He does a lot of things that we like offensively," Tanous said. "He has an advanced approach. He has power. Grinds out at-bats. So we're really excited we were able to get him at the spot we ended up getting him. He didn't play every game, and then down the stretch he played quite a bit. Tommy Jackson and Max Semler, our scouts in that region, really did a terrific job staying on him and staying with him. If it wasn't for that, we probably wouldn't have been able to land a prospect like that. He's a catcher (as opposed to other positions he's played). He's really an advanced guy behind the plate. They kind of have a rotation there at LSU. There's nothing we can do about that. But this is a catcher. We drafted him for the purpose of being a catcher."
Brad Wieck, LHP, Oklahoma City U., seventh round, and Kelly Secrest, LHP, UNC Wilmington, 10th round:
DePodesta said it had been a "running joke" in the draft room that the Mets had avoided left-handed pitchers the three previous years.
"It really wasn't intentional," DePodesta added. "We always look for them throughout various drafts and just haven't had very many opportunities to take them, especially in the first 10 rounds. This year the opportunity presented itself twice in the top 10 rounds.
"The first one we took, Brad Wieck, from Oklahoma City ... he's a powerful left-hander. He's 6-foot-9. We had him at 94 mph with a good breaking ball. We do think he's got a chance to be a good one.
"And Kelly Secrest, our scout John Hendricks really liked him and was one of his target guys coming into the draft. We were happy to be able to get two left-handers we really like, and we felt we got them at good, value spots."