SAN FRANCISCO -- The Mets took a pair of right-handed pitchers with Long Island ties on Day 3 of the draft: Jim Duff from Stonehill (Mass.) College, who hails from Garden City, in the 20th round and Tyler Badamo from Oakdale's Dowling College and Mount Sinai in the 24th round.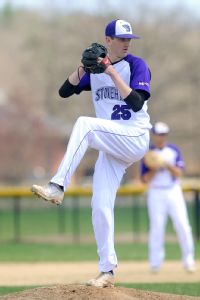 Courtesy of Stonehill College
The Mets selected Garden City, Long Island, native Jim Duff in the 20th round.
On Duff, amateur scouting director Tommy Tanous said: "He pitched fairly close to my house. He's about 20 minutes from my house. He was just up at our workout recently. Our area supervisor Mike Pesce has been on Duff quite a bit this year. A big kid. A strike thrower. A lot of groundballs. Anywhere from 86-90 mph. A really reliable kid. A strike thrower at that size (6-foot-6). So kind of an interesting kid."
On Badamo, Tanous said: "A three-pitch mix -- actually, four at times -- with anywhere from 88 to 92 mph. A curveball, slider. Another strike thrower. Those are the guys we tend to like."
As for drafting players in late rounds who have since reiterated their intention to go to college, such as University of Arkansas-bound right-hander Keaton McKinney (28th round), Tanous said:
"Sometimes you take shots at guys in the lower rounds. Sometimes things change and we get a chance to watch them for the summer and evaluate them. Sometimes the players change their minds about professional baseball.
"You get a chance at getting a player, which will feel like we did several times, that really doesn't belong in the 11th round, the 12th round, and you take a shot."