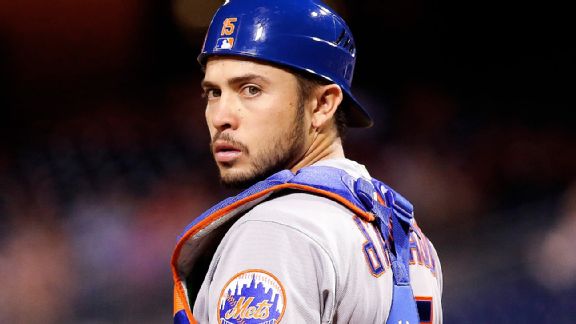 Bill Streicher/USA TODAY Sports
Travis d'Arnaud was demoted to Triple-A Las Vegas after Saturday's loss.SAN FRANCISCO -- Rookie Travis d'Arnaud, who is supposed to be the centerpiece behind the plate for years to come for the New York Mets, instead found himself demoted to Triple-A Las Vegas late Saturday.
D'Arnaud had been 3-for-26 since his return from the disabled list for a concussion. He is hitting .180 with three homers and nine RBIs in 128 at-bats this season.
"I've just got work to do," the 25-year-old d'Arnaud said in terse comments after receiving the news following the Mets' 5-4 walk-off loss to the San Francisco Giants. "I've got to find my swing."
#15 C
New York Mets
2014 STATS
GM

39

HR3

RBI9

R9

OBP.271

AVG

.180
Asked if the demotion caught him off guard, d'Arnaud said: "I just have work to do, man. That's all I really know."
D'Arnaud would not elaborate on what message the club gave him.
"I don't know if I'm allowed to say anything, but like I said, I have work to do," he said.
Taylor Teagarden has been promoted to join Anthony Recker behind the plate. Teagarden, 30, had a June 15 out in his contract. He was hitting .279 with eight homers and 19 RBIs with Las Vegas. He had a .402 on-base percentage, but also 36 strikeouts in 104 at-bats.
David Wright, who never returned to the minors after debuting with the Mets 10 years ago, said he spoke with d'Arnaud after the rookie catcher received word.
"He's upset," Wright said. "And I think he's upset at himself. But I think that it's a bump in the road. That's what I told him: You can't think of this as a failed opportunity or that now people think less of you in the organization. It's a bump in the road. And a lot of really, really good players go through this when they get first called up.
"He's hit at every level, but now he has that responsibility of sometimes babysitting a pitching staff and making sure he prepares for a game defensively. And that kind of takes away from some of the offense."
D'Arnaud was acquired from the Toronto Blue Jays with Noah Syndergaard for R.A. Dickey on Dec. 17, 2012.
The captain suggested the issue with d'Arnaud primarily is confidence.
"He's hit at every level in the minor leagues. Defensively he's been outstanding for us," Wright said. "Now it's just a matter, I think, of going down there and getting at-bats where you don't have necessarily the pressures of performing here. He can go down there, get in a groove and hopefully get hot and get called right back up. With him it's a lot about confidence. He gets it going, then all of a sudden he gets on a roll, and I think he can take that and bring it back up here with him.
"He's a guy that he's well thought of, not just by the Mets, but in baseball. So he can play. He's got to remember that he's one of the best young catching prospects in baseball, and to go in with that mindset and, like I said, hopefully have some success at Triple-A and then be right back."