Jim McIsaac/Getty Images
50 Cent has a postgame concert Saturday at Citi Field, but no reprise of his ugly ceremonial first pitch.NEW YORK
FIRST PITCH: Matt Harvey may have some flashbacks Saturday.
Former high school teammate Jesse Hahn has been promoted from Double-A San Antonio to step into San Diego's rotation for the start opposite Zack Wheeler at 4:10 p.m. at Citi Field.
Playing for Harvey's father Ed at Fitch High School, Hahn and Harvey won a Connecticut state championship as sophomores. The team was bounced in the semifinals the following two years, despite having the two future major league pitchers on the prep roster.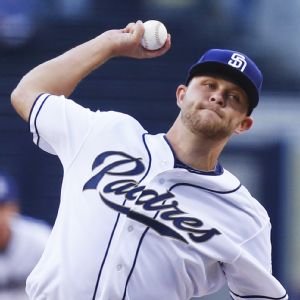 Lenny Ignelzi/Associated Press
Jesse Hahn, Matt Harvey's high school teammate, faces the Mets on Saturday at Citi Field.
"We just couldn't hit. He was the only one who could hit," Hahn told Mike Fitzpatrick of the Associated Press, referring to Harvey.
Hahn set a state record with a 0.17 ERA his senior year.
"I don't know how we didn't win it three years in a row there. It boggles my mind to this day," Hahn told the AP. "Like I said, we didn't hit."
While Harvey went on to the University of North Carolina, Hahn pitched at Virginia Tech. He was drafted by the Tampa Bay Rays in the sixth round in 2010 and traded to the Padres this past January in a seven-player swap.
Hahn has one major league appearance on his résumé. He lasted only 3 2/3 innings and surrendered four runs against the Pittsburgh Pirates in a June 3 start.
Of course, Saturday's game also features some entertainment. 50 Cent and G-Unit perform at Citi Field postgame.
Saturday's news reports:
• Not only did Terry Collins get a vote of confidence from Sandy Alderson early this week, the manager also was told by ownership his job was safe, Anthony Rieber writes in Newsday.
• The 40-somethings starred for the Mets on Friday. Bobby Abreu went 4-for-4 with two RBIs and two runs scored and Bartolo Colon retired 18 straight batters after surrendering a two-run homer in the second inning to Rene Rivera as the Mets beat the Padres, 6-2. Colon is 4-0 with a 1.83 ERA in his past five starts. The Mets have won six of their past seven games played on Friday the 13th.
Read game recaps in the Post, Daily News, Newsday, Star-Ledger, Record and at MLB.com.
• Jenrry Mejia underwent an MRI on Friday and has continued inflammation and stiffness in his lower back. He is unlikely to be available Saturday. Curtis Granderson (left ankle) is likely at least a day away from returning, Collins indicated.
• The Mets are eyeing Monday at St. Louis for Eric Young Jr.'s return from the disabled list. Young's rehab appearance Friday with Double-A Binghamton was rained out.
• Harvey alleged Mets pitchers are not doing enough to protect David Wright, although Collins offered an alternate point of view. Read more in the Daily News.
• John Church uncorked a wild pitch with two outs in the bottom of the ninth after inheriting the bases loaded and Zack Thornton surrendered a walk-off homer in the 12th as Oklahoma City beat Las Vegas, 6-5. Travis d'Arnaud had a solo homer in the loss. Brooklyn's season opener was rained out Friday at Staten Island. Read the full minor league recap here.
• Jason Rubenstein in the Daily News has a Cyclones season preview.
• The Florida State League All-Star Game will be played on Saturday in Bradenton, Fla. St. Lucie has seven players invited: infielders Dilson Herrera and T.J. Rivera, outfielder Brandon Nimmo, catcher Cam Maron, left-hander Steven Matz and right-handers Matt Koch and Randy Fontanez.
• The Mets announced the signings of four more draft picks Friday, lifting the total to 21 of 39 already inked.
• Tim Rohan in the Times chronicles the World Cup fever in the Mets clubhouse.
• From the bloggers … Faith and Fear can see Abreu and Colon emerging from the cornfield "Field of Dreams"-style. ... Blogging Mets suspects SNY is playing favorites when it comes to replays on close plays.
BIRTHDAYS: No one to appear in a major league game for the Mets celebrates a birthday on June 14, but Donald Trump, Boy George and Harriet Beecher Stowe were born on this date.
TWEET OF THE DAY:
Mission accomplished. pic.twitter.com/9lBL7fBRf0

— LA Kings (@LAKings) June 14, 2014
YOU'RE UP: Are you encouraged by Travis d'Arnaud's production with Las Vegas (.421, 3 HR in 19 ABs)?