NEW YORK
FIRST PITCH: Before hitting the road for St. Louis and Miami, the Mets play a rubber game Sunday against the San Diego Padres at 1:10 p.m. at Citi Field.
Daisuke Matsuzaka (3-0, 2.95 ERA) opposes right-hander Ian Kennedy (5-7, 3.63) in the Father's Day finale.
Curtis Granderson (left calf) indicated he expects to return to the starting lineup after missing three starts.
Sunday's news reports:
• Sandy Alderson had a Q&A with season ticket holders on Saturday afternoon at Citi Field.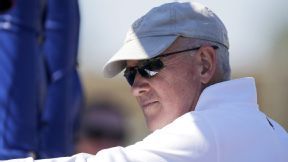 Jeff Roberson/Associated Press
Sandy Alderson is avoiding Twitter, but not beer.
The GM suggested there was flexibility to add to the payroll at the trade deadline and suggested it is too early to discuss the 2015 payroll level. He advised a fan who sought an assurance Daniel Murphy would not be traded to stay off Twitter and blogs and instead drink beer. Alderson also allowed for the possibility that Citi Field's dimensions would again be altered next offseason, while noting that would not be a panacea for the Mets' hitting woes.
"We have a couple of players on this team where their strength is right-center," Alderson said. "The other part is to take into account entertainment value. People like run production. And if the ballpark is more hitter-friendly, there's more action and maybe more interest and less frustration."
As for trading some pitching depth for a bat, Alderson said: "One of the problems of trading pitching, regardless of how much you have, is that you can never have enough. There are a couple of things that make me cautious. You're never quite sure who is going to succeed and who's not, who's going to get injured and who's not. To some extent, there's safety in numbers. I guess the short answer to your question is that we'd consider doing it, but we're cautious about it."
In response to Alderson's quip about avoiding Murphy trade rumors -- when the GM said, "Do what I do: Ignore Twitter and try to ignore the blogosphere and have a beer when you go home tonight" -- columnist David Lennon in Newsday writes:
Don't forget to pick up a newspaper, we might add. And when you're done reading, it's good for covering your eyes for those Chris Young at-bats.
Writes columnist Ken Davidoff in the Post:
It's possible that for a select group of the announced 38,269 on hand -- a bump for the 50 Cent postgame concert? -- the most aggravation might have occurred before the game started, when beleaguered Mets general manager Sandy Alderson danced around the issue of a payroll increase and sounded wary of trading his impressive pitching surplus for an impact bat.
Read more in the Post, Daily News and Star-Ledger.
• The Mets mustered only two hits against Jesse Hahn (Matt Harvey's high school teammate) and three relievers as San Diego won, 5-0, Saturday at Citi Field. Zack Wheeler allowed four runs in five innings. Chris Young struck out in all four at-bats as his average dropped to .196. The Mets have lost nine of 11. Boosted by a postgame 50 Cent concert, the paid crowd was announced at 38,269.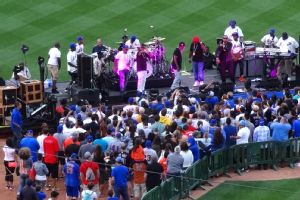 Adam Rubin
50 Cent provided postgame entertainment Saturday at Citi Field.
Read game recaps in the Post, Daily News, Newsday, Star-Ledger, Record, Times and at MLB.com.
• Anthony Rieber in Newsday catches up with ex-Mets Jose Reyes and Josh Thole. Both Toronto Blue Jays players feel for David Wright.
"I know he's going through some tough times right now, but he's a veteran guy," Reyes told Rieber. "He's going to do what he can do on the field. … After a little while, you just want to win. It's not about the money, because we are already set. We've got a contract and it's now about winning. We're not getting any younger, you know? What is he, 31? I'm 31. I want to win. So I know about that."
Said Thole: "It was there from '09 through '12 and it was, 'Wait till next year, wait till next year.' I always tell the guys: The hardest thing in the baseball world, in my opinion, is to play in New York for the Mets. No. 1, you have a bunch of young kids coming up. Every day, there's something. A story. Everything is a story there. So you can get caught up into that quickly. It's just a tough place to play. I would say it's been the hardest for David. He just signed that bangin' deal. It's just weird."
• Eric Young Jr. went 0-for-6 with a walk and stolen base while playing both games of a doubleheader with Double-A Binghamton, the latter at DH. Terry Collins has suggested E.Y. Jr. (right hamstring) should rejoin the Mets on Monday in St. Louis.
• Rafael Montero departed Saturday's Las Vegas game after throwing five pitches with an injury to his left side, a team official told ESPNNewYork.com.
• Travis d'Arnaud is now hitting .417 with four homers in 24 at-bats since a demotion. His two-run shot Saturday helped lift Vegas to a 7-1 win at Oklahoma City. Binghamton swept a doubleheader from Erie as Brian Burgamy went a combined 5-for-6. Hansel Robles tossed a shutout in the nightcap. Dilson Herrera and T.J. Rivera each produced RBIs representing St. Lucie in the Florida State League All-Star Game. A day after it was rained out, Brooklyn won its season opener, 8-2, against Staten Island. Read the full minor-league recap here.
• St. Louis Cardinals ace Adam Wainwright (9-3, 2.15 ERA) will miss Monday's start against the Mets at Busch Stadium because of tendinitis in his pitching elbow.
• Ex-Met Mike Piazza is attending the World Cup. He already has watched the opener between Brazil and Croatia. He plans to attend England-Italy on Saturday. "I'm not a frontrunner," Piazza told Michael Lewis in Newsday while at a Sao Paulo airport. "I am pulling for the U.S. If they are eliminated, I'm rooting for the Italians."
Piazza told Lewis he played soccer at age 9 and was a central defender. "I got some skills," he said. "I can handle the ball."
• Anthony McCarron in the Daily News quotes players on how they learned they were getting called up to the major leagues, including Wright, Harvey and Granderson.
• From the bloggers … Faith and Fear finds yet another way to say there's not much left to say about the state of these Mets.
BIRTHDAYS: Union chief/ex-Met Tony Clark turns 42. ... 2013 first-round pick Dominic Smith is 19. ... Brett Butler is 57. ... Jeremy Reed is 33.
TWEET OF THE DAY:
Come to Brazil and #MeettheMets. Thanks to @mikepiazza31 for the photo! pic.twitter.com/1GP6zyFCVc

— David Applegate (@appleuhday) June 14, 2014
YOU'RE UP: Should Travis d'Arnaud return to the majors as soon as the minimum 10-day demotion period is completed?