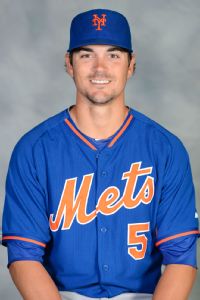 Courtesy of New York Mets
Matt Reynolds
ST. LOUIS -- Middle infielder Matt Reynolds is headed to Triple-A Las Vegas as part of system-wide promotions at the midpoint of the minor-league season.
Reynolds, 23, is a second-round pick out of the University of Arkansas in 2012.
He was hitting .355 with one homer and 21 RBIs in 211 at-bats at Double-A Binghamton. Reynolds also had a .430 on-base percentage.
Read a recent feature story here.
Wednesday's promotions also included Brandon Nimmo, Steven Matz, Dilson Herrera, Randy Fontanez and T.J. Rivera joining the B-Mets.