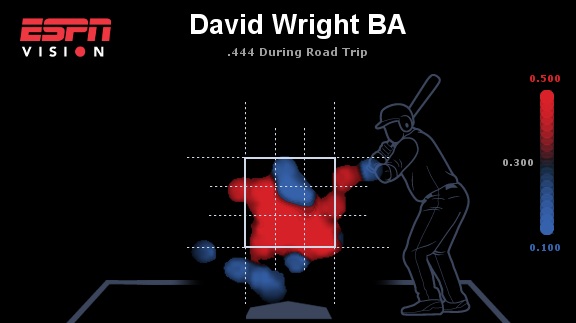 David Wright scorched the ball all week.This was a good road trip for the Mets.
All things considered, with the two losses in St. Louis and the disastrous finish to the second game of the series with the Marlins, the Mets did very well to get four wins in seven games.
And perhaps more significantly, they may have turned the corner in a few different ways. Here's a look at significant ones related to their offense, their pitching and their defense.
Wright hit in all seven games. He went 12-for-27 with two home runs and six RBIs. Just as notable was that he drove the ball with authority, hitting 11 line drives (netting 10 hits and a sacrifice fly) and that he had only nine swings and misses (three in the four games against the Marlins).
#5 3B
New York Mets
2014 STATS
GM

76

HR6

RBI39

R34

OBP.336

BA

.278
Wright did something that he had not been doing at all during his struggles—cover the outside part of the plate. Wright had six hits, including a home run against outer-half pitches during this road trip.
From May 22 to June 15, a 24-game stretch in which he hit .198, Wright totaled only six hits against pitches on the outer-half of the plate or off the outside corner.
Wheeler looked like the pitcher that the Mets have been waiting for this season, as everything came together perfectly in his 1-0 win over the Marlins.
#45 SP
New York Mets
2014 STATS
Terry Collins cited Wheeler's fastball command as being about as good as he'd seen. Wheeler threw the pitch for a strike 73 percent of the time, his second-highest fastball strike rate this season.
Every fastball Wheeler threw was at least 93.5 mph (meaning 94 mph on the radar gun). He averaged 95.5 mph for the game, a hair shy of his career best (95.7 done June, 25, 2013 against the White Sox).
Wheeler averaged 94.5 mph with his fastball over the last three innings, throwing 13 of 16 for strikes. He'd only thrown 14 of 28 fastballs for strikes that late in a game entering that Marlins start.
deGrom threw seven scoreless innings to earn his first major-league win on Saturday (the 333rd pitcher in Mets history to win a game).
The best thing for deGrom was that he was economical. He averaged 3.5 pitches per batter, a career best. He had his best first-pitch strike rate (68 percent) since his major-league debut against the Yankees (also 68 percent) five weeks ago.
deGrom did get knocked around a bit by the Cardinals in allowing six earned runs in 4 1/3 innings earlier in the week. But keep this in mind -- our video-review crew did not rate any of the balls that the Cardinals put in play as hard hit."
Double-Play Defense
The Mets have consistently rated the worst team in baseball with regard to the double-play component of the Defensive Runs Saved Statistic this season.
But they looked a little smoother on this road trip.
The Mets turned 10 ground-ball double plays in the two series, getting at least one in six of the seven games. They matched their season high by turning three in their 3-2 win in the series finale against the Cardinals.
Baseball Info Solutions has credited the Mets with a major-league high 14 Defensive Misplays and Errors on double plays this season. But they completely avoided those mistakes in this series.