PORT ST. LUCIE, Fla. -- L.J. Mazzilli was born on Sept. 6, 1990, the year after his father Lee Mazzilli's major league career ended in the American League Championship Series with Toronto's loss to Oakland.
Still, L.J. eventually did enjoy the benefits of his father being in a major league uniform. Lee managed the Baltimore Orioles during the 2004 and part of the '05 seasons. So L.J., during his early teenage years, spent plenty of time in the clubhouse. He grew particularly close to then-Orioles second baseman Brian Roberts, who now is with the Yankees at the twilight of his career.
L.J., the Mets' fourth-round pick out of UConn in 2013, was part of last week's wave of promotions throughout the organization. He hit .292 with seven homers, 45 RBIs and 11 steals in 250 at-bats with Savannah and played in the South Atlantic League All-Star Game. He since has moved on to St. Lucie, where he is hitting .286 through six games and slugged his second homer in six Florida State League games on Tuesday night.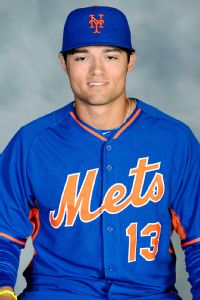 Courtesy of New York Mets
L.J. Mazzilli
"That was the perfect year for any kid to be a manager's son," L.J. recalled about his days hanging out at Camden Yards. "I got there and I was bat boy and I lived with him for a year in Baltimore and I got to be around Brian Roberts, who is my favorite baseball player. He's the coolest guy on earth. And I got to be around Miguel Tejada, Melvin Mora, who was a cool dude, Luis Matos, who I loved. I would be out there shagging with him as a little kid in center field. It was just really cool to experience."
As for his particular affinity for Roberts, L.J. added: "He just took me under his wing. Every single day I would just hang out around him. He was an All-Star that year ['05]. And he was a little guy, a switch-hitting second baseman. And my dad gave him the starting nod for the first time in his career. He took him over Jerry Hairston Jr. that year and his hitting exploded.
"He and my dad had a really good connection. Every single day I would be around him. There would be days where my dad would have to go do something, because I was living with my dad, and he would just leave me with [Roberts], and I'd go to the field with him. He'd give me food and stuff like that. It was like he wasn't a major league baseball player. He was just awesome."
With Lee now a special advisor to Yankees chief operating officer Lonn Trost and around that ballclub, Roberts recently had the opportunity to ask for L.J.'s cell phone number.
"He sent me a text," L.J. said. "He's awesome."
L.J., whose average was in the .220s with Savannah into mid-May, had received a piece of advice from Yogi Berra through Lee about that time this season: "If you see it, hit it. If you don't see it, don't hit it," the 89-year-old Berra said.
The anecdote fanned through the media, even making a New York tabloid. L.J. said, in reality, the affect it had on his subsequent performance was considerably overblown.
"It was like headlines everywhere," L.J. said. "But it did help, though, because I was struggling and I was thinking about a lot of things. And the fact that it simplified thinking about the process of hitting -- if you see it, hit it; if you don't see it, don't hit it -- it was like, 'All right. It makes sense.'"
So what happened? L.J. suggested instruction from Savannah hitting coach Valentino Pascucci and one particular home run made all the difference.
"Something clicked. I hit a home run to dead-center in Savannah. It was the farthest ball I've ever hit. That's a pretty far poke," said L.J., referring to the 410-foot dimension in center at Historic Grayson Stadium, which also has a higher-than-average wall. "I didn't really gear up for it or anything. It was a one-motion, smooth swing. It was on time and through it.
"Pascucci, he helped me so much. Basically what he stresses is being on time. And then, when you're on time, just stay through it, no matter where it is, if it's in your 'box.' I got a middle-in fastball and I was thinking away and I was on time and smooth through the ball and all of a sudden it just clicked from there -- that's all it is, is being on time and staying through the baseball. If you've got two strikes, you've got to expand the zone a little bit. That was the big key."
Lee has seen his son play twice this year, double-dipping on official Yankees business while playing dad, too. He was there for Savannah's Opening Day and also a couple of weeks ago when the Gnats played at Charleston, the Yankees' affiliate in the South Atlantic League.
A second baseman for the bulk of his pro career, L.J. also did appear in 14 games at shortstop during the first half with the Gnats.
"Just to expand my versatility out there," he said. "I played short my whole life, until about my sophomore year of college. There was this kid Nick Ahmed [at UConn], who last year was the Gold Glove shortstop of all the minor leagues, so I had no chance in college then. But I definitely learned a lot from him."
L.J. said one lesson he has learned as a pro is that while it's a long year, every at-bat counts.
As L.J. spoke on Monday afternoon at Tradition Field, he was wearing a white bracelet on his left wrist that read: "Fred L. Mazzilli Foundation." Named for Lee's older brother, who passed away two years ago from lung cancer, the one-year-old foundation sponsors free screening tests for lung cancer at the New York Methodist Hospital.
"For just a first step it's amazing," L.J. said. "We're trying to keep going with that into the future."
Organization leaders
Average: Emmanuel Zabala, GCL Mets, .467; Dionis Rodriguez, GCL Mets, .444; Brandon Brosher, Kingsport, .421; Matt Reynolds, Vegas, .359; Jairo Perez, St. Lucie, .359; Alfredo Reyes, GCL Mets, .353; Oswald Caraballo, Kingsport, .350; T.J. Rivera, Binghamton, .340; Kevin Plawecki, Vegas; .326; Jeff McNeil, St. Lucie, .319.
Homers: Andrew Brown, Vegas, 13; Brian Burgamy, Binghamton, 13; Matt Clark, Binghamton, 10; Allan Dykstra, Vegas, 10; Kirk Nieuwenhuis, Vegas, 10.
RBIs: Allan Dykstra, Vegas, 52; L.J. Mazzilli, St. Lucie, 51; T.J. Rivera, Binghamton, 49; Matt Clark, Binghamton, 46; Aderlin Rodriguez, St. Lucie, 46.
Steals: Patrick Biondi, Savannah, 16; Jeff McNeil, St. Lucie, 15; Dilson Herrera, Binghamton, 15; L.J. Mazzilli, St. Lucie, 11; Stefan Sabol, Savannah, 10.
ERA: Kevin Canelon, GCL Mets, 0.00; Corey Oswalt, Brooklyn, 0.00; Blake Taylor, GCL Mets, 0.00; Marcos Molina, Brooklyn, 0.69; Octavio Acosta, Brooklyn, 0.84; Martires Arias, Kingsport, 1.04; Yoryi Nuez, Kingsport, 1.69; Logan Taylor, GCL Mets, 1.80; John Gant, Savannah, 2.13; Kevin McGowan, Savannah, 2.39.
Wins: Gabriel Ynoa, St. Lucie, 8; John Gant, Savannah, 7; Matt Koch, St. Lucie, 7.
Saves: Chasen Bradford, Vegas, 12; Robert Coles, St. Lucie, 12; Randy Fontanez, Binghamton, 10; Vic Black, Vegas, 7; Jeff Walters, Vegas, 6; Beck Wheeler, St. Lucie, 6.
Strikeouts: Darin Gorski, Vegas, 79; Dario Alvarez, Savannah, 70; Matt Bowman, Binghamton, 68; Noah Syndergaard, Vegas, 67; Steven Matz, Binghamton, 66.
Short hops
• Brandon Brosher is not letting a conversion to full-time catching affect his production at the plate. Brosher, an outfielder and first baseman in high school in Florida who did not begin catching until last fall's instructional league, has slugged four homers through his opening five games with Kingsport, although four of the starts have come as DH. He is hitting .421 with four homers and seven RBIs through 19 at-bats and was recognized as the season's first Appalachian League Player of the Week. In his lone start at catcher so far, Brosher did have one passed ball, and Kingsport's starter was charged with two wild pitches. The 19-year-old Brosher was a 36th-round pick in 2013. He had committed to Oral Roberts, but was enticed to go pro with a $167,500 signing bonus. The Mets believed he would grow into power, and it has come quicker than expected.
• Left-hander Blake Taylor, the player to be named in the Ike Davis deal with the Pittsburgh Pirates, made his organization debut Tuesday. After Dillon Gee handled the first two innings in a rehab start, Taylor entered and tossed four scoreless innings. He limited the Gulf Coast League Marlins to one hit and three walks while striking out seven in four innings. Taylor, 18, was drafted by the Pirates in the second round last year out of high school in Dana Point, Calif.
• Noah Syndergaard is not having an exceptional year for a top prospect. He is 6-4 with a 4.98 ERA in 13 starts for Las Vegas and twice has been injured. So why is he joining catcher Kevin Plawecki at the Futures Game at Target Field? A Mets official said Futures Game organizers select the players, not the individual clubs, although an organization can nix someone for health or other legitimate reasons. Plawecki, newly promoted, is due to join Las Vegas on Thursday.
• Right-hander Corey Oswalt, the Mets' seventh-round pick in 2012 out of high school in San Diego, is off to a blazing start with Brooklyn. The 20-year-old Oswalt has opened the New York-Penn League season with 13 straight scoreless innings, striking out 14 and walking one. The 6-foot-4, 200-pound Oswalt's fastball generally resides in the 89-92 mph range.
• The Mets have signed 25-year-old infielder Jonathan Johnson and assigned him to Savannah. Johnson had been playing for the Gateway Grizzlies in the independent Frontier League. Undrafted out of college, Johnson played at Loyola Marymount alongside Gnats catcher Colton Plaia in 2010.
• Cory Mazzoni, who last logged four innings in a Gulf Coast League game, is slated to next appear in the Florida State League as he works back from a spring-training lat-muscle strain on his right side. John Lannan also is due to pitch for St. Lucie shortly.
• 2012 first-round pick Brandon Nimmo, part of last week's wave of promotions, slugged his first Double-A homer Tuesday. Nimmo now headlines a Binghamton outfield that will continue to be crowded even after Juan Lagares' rehab assignment there is complete. Nimmo should get priority in playing time, but manager Pedro Lopez also needs to divvy time among Darrell Ceciliani, Travis Taijeron, Dustin Lawley and Kyle Johnson. Lopez will take advantage of the DH against AL affiliates, potentially at the expense of Matt Clark.
• St. Lucie catcher Cam Maron, from Hicksville on Long Island, has a 15-game hitting streak that has lifted his average to .294. With Plawecki going to Triple-A, it would not be a surprise to see Maron wind up in Binghamton soon, although Kai Gronauer apparently will temporarily fill a void at Double-A with a move from Vegas.