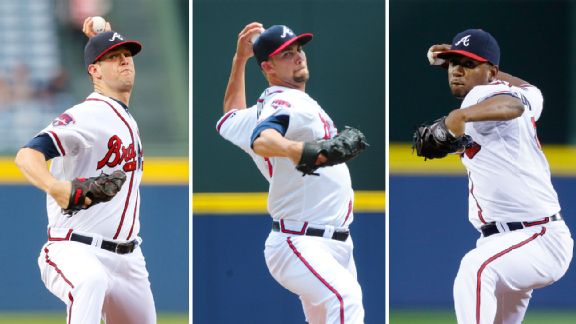 Getty Images
The Mets face Alex Wood, Mike Minor and Julio Teheran during their upcoming series in Atlanta.METS (37-45, fourth place/NL East) vs. ATLANTA BRAVES (44-38, first place/NL East)
Monday: RHP Zack Wheeler (3-8, 4.45) vs. LHP Alex Wood (6-6, 3.07), 7:10 p.m. ET
Tuesday: RHP Daisuke Matsuzaka (3-2, 3.23) vs. LHP Mike Minor (2-5, 4.50), 7:10 p.m. ET
Wednesday: RHP Jacob deGrom (1-4, 3.62) vs. RHP Julio Teheran (7-5, 2.34), 7:10 p.m. ET
Braves short hops
• Alex Wood was promoted from Triple-A Gwinnett and reentered the rotation Wednesday. He tossed seven scoreless innings at Houston in his first major league start since May 4. Wood replaced Gavin Floyd, who fractured the olecranon (funny bone) in his pitching elbow throwing a curveball. Mets doctor David Altchek performed season-ending surgery Wednesday in New York. Wood had opened the season in Atlanta's rotation, but was shifted to the bullpen once Floyd returned from Tommy John surgery in early May.
• Evan Gattis was forced to depart Friday's game and since has been sidelined with a muscle issue in his upper back. Gattis, who had a career-high 20-game hitting streak snapped a week ago, hopes to avoid the disabled list. He has 16 homers, most among MLB catchers and tied with teammate Justin Upton for fifth overall in the National League.
Atlanta promoted top catching prospect Christian Bethancourt as a hedge, so the Braves would not be overly reliant on Gerald Laird. Ryan Doumit also has catching experience, but has started only two games behind the plate this season, both in early April.
Bethancourt had one plate appearance last Sept. 29, in his lone previous major league action. He got his first career start and action behind the plate in Game 2 of a doubleheader Saturday at Philadelphia. The 22-year-old Panamanian went 1-for-4. He has been selected to participate in his third Futures Game, at Minnesota on July 13.
• Dan Uggla (.164, 2 HR, 10 RBIs, 38 Ks in 128 at-bats) has been relegated to the bench because of profound struggles. He has started only two games since May 23. Uggla is earning $13 million this season. He also is under contract for 2015 at $13 million.
Tommy Gilligan/USA TODAY Sports
New Jersey native Tommy La Stella has overtaken Dan Uggla as the Braves' second baseman.
After brief use of Tyler Pastornicky and Ramiro Pena at second base, rookie Tommy La Stella -- a Closter, N.J., native and product of St. Joseph High School in Montvale -- has taken over the position. La Stella, 25, got off to a quick start, but had been mired in an 0-for-23 skid until delivering a three-run triple in Game 1 of Saturday's doubleheader.
La Stella (.278) had been installed as the leadoff hitter beginning June 18, but he subsequently was moved to No. 2. Beginning this past weekend, he shifted to seventh. La Stella spent his freshman year of college playing at St. John's before transferring to Coastal Carolina.
• First baseman Freddie Freeman has started every Braves game this season. The only other National League players to start all their teams' games in 2014 are the Cubs' Starlin Castro and Giants' Hunter Pence. Freeman actually had logged every inning until he was hit by a pitch in the elbow in the eighth inning Wednesday by Houston's Darin Downs and departed that game.
In his last 15 games, Freeman is hitting .371 (23-for-62) with nine extra-base hits and seven multi-hit games.
• Right fielder Jason Heyward's six outfield assists are tied for the NL lead.
• The Braves will move into a new home ballpark beginning with the 2017 season. The site is located in Cobb County, in an affluent area north of Atlanta. The Braves have called Turner Field home since 1997, the year after the stadium hosted the Olympics.
• B.J. Upton and Justin Upton both homered Tuesday. It marked the fourth time the brothers went deep in the same game, which tied the major league record. Jason Giambi and Jeremy Giambi as well as Vladimir Guerrero and Wilton Guerrero also homered in the same game four times.
• Andrelton Simmons, the reigning NL Gold Glove winner at shortstop, is the third-toughest player in the NL to strike out.
• Closer Craig Kimbrel has four blown saves this season, matching last season's total and already exceeding the three he suffered in 2012. Kimbrel's 89.6 career save percentage nonetheless ranks third all time among MLB relievers with at least 150 chances, trailing only Eric Gagne (91.7 percent) and John Smoltz (91.1 percent). Kimbrel's 155th save came on June 6 and set the Braves franchise record for career saves, passing Smoltz.
• Right-handed reliever David Carpenter has started a rehab assignment. He landed on the DL on June 17 with a strained biceps. Ex-Mets reliever Pedro Beato, who had been promoted to replace Carpenter, landed on the DL two days later with a right elbow strain.
• Manager Fredi Gonzalez will serve as a coach on Cardinals manager Mike Matheny's NL All-Star staff.