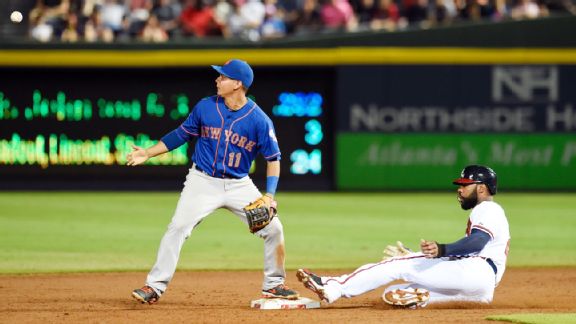 Dale Zanine/USA TODAY Sports
Jeurys Familia's throw bounces away from Ruben Tejada for the first of three errors by the Mets in the eighth inning.ATLANTA -- The Mets literally threw away Monday's series opener at Turner Field. Jeurys Familia, Juan Lagares and Eric Campbell committed errors in a four-run eighth by the Atlanta Braves as the Mets lost, 5-3.
It marked the first time since June 25, 2012 at Wrigley Field that the Mets committed three errors in an inning, according to the Elias Sports Bureau.
And it was déjà vu for Jeurys Familia, who also had a costly throwing error to second base on a would-be double play against the Los Angeles Dodgers on May 21.
Against L.A., Familia got confused by Daniel Murphy and Wilmer Flores both converging on second base, hesitated and misfired. This time, it was a pure physical error.
After consecutive singles to open the half-inning with the Mets leading 3-1, Familia was poised to get a tailor-made double play on a comebacker by Chris Johnson. Instead, Familia rushed and bounced a throw that Ruben Tejada was unable to handle.
"I tried to be too quick throwing to the base, like before I got to the ball trying to throw it," Familia said. "It was my fault. ... I wasn't in good position to throw the ball."
Said Terry Collins: "He hurried his throw. He's a young guy. We've got to get his feet underneath him a little bit better, like he's been taught."
With the bases loaded and none out, Tommy La Stella followed with an RBI single up the middle. A second run scored on the play when Lagares muffed fielding the baseball.
Lagares was charged with his first error of the season.
"There's a guy that never overruns a ball in center field," Collins said. "They held the runner up, and Juan's usually really good."
The final miscue in the three-error frame came from Campbell. Poised to get out of the inning with the score tied at 3, the third baseman misread Andrelton Simmons' hard chopper, charged in too far and had the ball pop out of his glove as he stepped backward to adjust. Campbell's rushed throw to first base was too late as the go-ahead run scored in what eventually became a four-run frame.
The Mets fell a season-high-matching nine games under .500 and are now a season-high eight games out of first place.
"I misjudged it," Campbell said. "I thought it was going to be one I moved in on. And I took a couple of steps back on my heels and it hit the palm of my glove and bounced out. ... It's tough. It seems like those things happen when teams are struggling. That's what we're doing right now. Just like a week ago, we need a good game to get us back on a roll."
Said Collins: "We [normally] catch the ball pretty good. That's probably the most frustrating part."