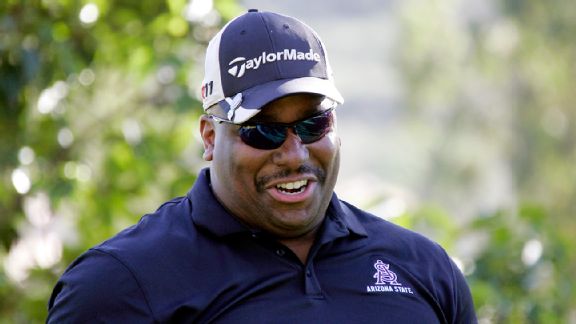 Kent Horner/Getty Images
Bobby Bonilla gets cut a check for $1.19 million on Tuesday, as he will every July 1 through 2035.ATLANTA
FIRST PITCH: It's payday for Bobby Bonilla.
Back near the end of Bonilla's playing days, the Mets agreed to pay him $1,193,248.20 annually on July 1 for 25 years, beginning in 2011.
Bonilla was owed $5.9 million when the Mets agreed to that buyout.
The agreement called for deferred payments at an 8 percent annual interest rate. At the time, Mets ownership did not mind that interest rate because their investments with Bernie Madoff were returning comfortably more than that figure.
Meanwhile, believe it or not, the Mets annually make a second payment to Bonilla, too.
CBSSports.com reported last year that Bonilla receives a separate payment for 25 years, which is the shared responsibility of the Mets and Baltimore Orioles and runs through 2028. The Mets reportedly are required to pay slightly more than half of the annual $500,000 sum, which stems from Bonilla's original tour of duty with the Mets.
On the field Tuesday, the Mets continue their series against the Atlanta Braves. Daisuke Matsuzaka (3-2, 3.23 ERA) opposes left-hander Mike Minor (2-5, 4.50) at 7:10 p.m. at Turner Field.
Tuesday's news reports:
• Frank Cashen, the architect of the '86 Mets, died Monday in Easton, Maryland. He was 88. Cashen traded for Keith Hernandez and Gary Carter and drafted Dwight Gooden and Darryl Strawberry. "He's the greatest GM in Mets history," Hernandez said. "There's no question about it." Read more in the Times, Post, Daily News, Star-Ledger, Journal, Newsday and at MLB.com.
• The Mets plan to play shorthanded in Atlanta while David Wright remains active. Wright is missing the Braves series and instead is getting treatment at the Hospital for Special Surgery in Manhattan for a bruised left rotator cuff. Terry Collins now expects Wright will rejoin the team and be available to play on Friday when the Mets return to Citi Field to face the Texas Rangers. Read more in the Post, Star-Ledger, Newsday and at MLB.com.
Mark Duncan/Associated Press
Stolen internal communications suggest the Mets asked for Jonathan Villar in a deal involving Daniel Murphy in December.
• A breach of a database containing Houston Astros trade dialogue, which was posted to a web site, reveals the Mets asked for Jonathan Villar last December in conversations about Daniel Murphy. The Astros in late February also purportedly pitched to the Mets trading Lucas Harrell and minor-league left-hander Alex Sogard for Ike Davis.
The Astros have involved law enforcement in investigating the breach of their private database, Evan Drellich writes in the Houston Chronicle.
"We had security in place, and when you're talking about criminals, we just never know if we have enough," GM Jeff Luhnow told the newspaper.
Read more in Newsday.
• Jeurys Familia, Juan Lagares and Eric Campbell committed errors in a four-run eighth by the Braves as the Mets lost, 5-3, Monday at Turner Field. It marked the first three-error inning by the Mets since June 25, 2012 at Wrigley Field, when Wright, right fielder Lucas Duda and second baseman Ronny Cedeno all committed errors behind Jon Rauch. The Mets (37-46) are now a season-high-matching nine games under .500. They now trail first-place Atlanta by a season-high eight games.
Read game recaps in the Atlanta Journal-Constitution, Post, Daily News, Times, Star-Ledger, Record, Newsday and at MLB.com.
• Dillon Gee is expected to make one more minor-league rehab start, then return to the Mets in time to make one major league start before the All-Star break.
• Dustin Lawley homered and had four RBIs as Binghamton beat New Britain, 8-3. Eudy Pina had a go-ahead two-run triple and finished with three RBIs as St. Lucie beat Bradenton, 5-2. Matt Oberste improved to 7-for-7 with two homers in his past two games as Savannah beat Rome, 8-1. Read the full minor-league recap here.
• The Braves have placed catcher Evan Gattis on the disabled list with a bulging disk in his back. Read more in the Atlanta Journal-Constitution.
BIRTHDAYS: Savannah right-hander Chris Flexen turns 20. ... Original Met Craig Anderson was born on this date in 1938.
TWEET OF THE DAY:
@AdamRubinESPN the word "collapse" still gives me cold sweats

— Jeremy Clarke (@Papa_Clarke) July 1, 2014
YOU'RE UP: Would you have approved of a Daniel Murphy trade that returned Jonathan Villar as at least one of the pieces?