NEW YORK -- The Mets received an immediate return from the Aug. 30, 2013, trade of Marlon Byrd and John Buck to the Pirates, with Vic Black joining the major league club for the final month of last season. The other piece acquired in that trade is thriving in the minors.
After hitting .307/.355/.410 in the first half with St. Lucie, 20-year-old middle infielder Dilson Herrera ascended to Binghamton during a wave of promotions three weeks ago. The native Colombian is hitting .329 with two homers, 13 RBIs and 10 walks in 17 games since the move to Double-A.
Colombia may not produce the same volume of talent as, say, the Dominican Republic or Venezuela. Of the 224 foreign-born players on MLB rosters on Opening Day, four hailed from Herrera's native country: then Angel and now Pirate Ernesto Frieri, the White Sox's Jose Quintana, Marlins' Donovan Solano and Braves' Julio Teheran.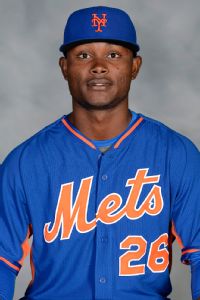 Courtesy of New York Mets
Dilson Herrera
Herrera nonetheless said he grew up playing baseball from a young age -- 3 or 4 years old -- and particularly looked up to Colombia-born Edgar Renteria, who played for 16 seasons in the majors, through 2011.
"Colombia is a big soccer country, but I grew up and never stopped playing baseball," Herrera said through an interpreter.
As for what he particularly admired about Renteria, Herrera added: "On the field he was a really good player, always clutch, and he always came up big for his team. But what impressed me most was how good of a person he was. That's what I liked the most about him."
The Pirates used Herrera exclusively at third base in the Venezuelan Summer League back in 2011, after he first signed. Pittsburgh then only used him at second base for the next two and a half seasons, until last summer's trade. Herrera continued to exclusively play second base after joining Savannah late last season. He helped the Gnats win the 2013 South Atlantic League championship while manning that position.
This season, he is receiving his first professional exposure to shortstop. With St. Lucie, he appeared in 43 games at second base and 19 games at shortstop during the first half. With Binghamton, the split has been nearly 50/50.
"I grew up playing shortstop," Herrera said. "With the Pirates they turned me into a second baseman. And now I feel very comfortable at second base. But I can still play shortstop."
As for the trade that brought him to the Mets, Herrera added: "I was surprised. Obviously I wasn't expecting it. I was sad about leaving relationships and friendships with the Pirates organization, but was happy for the opportunity. I was excited about the opportunity to come to a new organization."
Organization leaders
Average: John Mora, GCL Mets, .409; Matt Reynolds, Vegas, .358; Jairo Perez, St. Lucie, .358; T.J. Rivera, Binghamton, .346; Emmanuel Zabala, GCL Mets, .340; Luis Guillorme, Kingsport, .333; Jhoan Urena, Brooklyn, .315; Oswald Caraballo, Kingsport, .314; Jeff McNeil, St. Lucie, .313; Dilson Herrera, Binghamton, .312.
Homers: Andrew Brown, Vegas, 15; Dustin Lawley, Binghamton, 15; Brian Burgamy, Binghamton, 14; Allan Dykstra, Vegas, 12; Wilmer Flores, Vegas, 11.
RBIs: Allan Dykstra, Vegas, 56; L.J. Mazzilli, St. Lucie, 52; T.J. Rivera, Binghamton, 49; Aderlin Rodriguez, St. Lucie, 48; Matt Clark, Binghamton, 46.
Steals: Patrick Biondi, Savannah, 18; Dilson Herrera, Binghamton, 16; Jeff McNeil, St. Lucie, 15; L.J. Mazzilli, St. Lucie, 12; Stefan Sabol, Savannah, 12.
ERA: Marcos Molina, Brooklyn, 0.38; Rob Whalen, GCL Mets, 1.71; Octavio Acosta, Brooklyn, 1.96; Corey Oswalt, Brooklyn, 2.08; Kevin McGowan, St. Lucie, 2.20; Steven Matz, Binghamton, 2.25; John Gant, Savannah, 2.64; Robert Gsellman, Savannah, 2.81; Darin Gorski, Vegas, 2.91; Matt Bowman, Vegas, 3.56.
Wins: John Gant, Savannah, 9; Gabriel Ynoa, Binghamton, 8.
Saves: Chasen Bradford, Vegas, 12; Robert Coles, St. Lucie, 12; Randy Fontanez, Binghamton, 10; Akeel Morris, Savannah, 8; Vic Black, Vegas, 7.
Strikeouts: Darin Gorski, Vegas, 94; Dario Alvarez, Savannah, 86; Matt Bowman, Vegas, 82; Steven Matz, Binghamton, 82; Noah Syndergaard, Vegas, 82.
Short hops
• Allan Dykstra has been selected to represent the Mets in the Triple-A All-Star Game. He will serve as the Pacific Coast League's designated hitter in next Wednesday's game at Durham, N.C.
Dykstra also will participate in Monday's Home Run Derby. In fact, four of the six participants have passed through the Mets organization during their career. The others who will be competing in the derby: Mike Jacobs, Francisco Pena and Mike Hessman.
• Four Binghamton players were selected to the Eastern League All-Star Game: infielder Brian Burgamy, outfielder Kyle Johnson and right-handers Cody Satterwhite and Jon Velasquez. The 33-year-old Burgamy, 28-year-old Velasquez and 27-year-old Satterwhite all were signed by the Mets out of independent ball. Johnson arrived in the trade with the Angels for Collin Cowgill. The game will be played next Wednesday in Altoona, Pa. Kevin Plawecki and Matt Reynolds clearly merited selection, but already have been promoted to Triple-A.
• Wilmer Flores was named PCL Player of the Week for the period ending Sunday. He became the first Las Vegas player to hit six homers in a five-game stretch since Melvin Nieves in 1994, when the club was affiliated with the Padres. Flores had league highs for the week with 13 hits, 12 runs scored and 16 RBIs.
• 2013 first-round pick Dominic Smith is hitting .439 (25-for-57) in 14 games since June 24.
• Baseball America ranked three Mets prospects in its top 50 in baseball: Noah Syndergaard at No. 19, Plawecki at No. 40 and Brandon Nimmo at No. 48. Syndergaard and Plawecki will represent the Mets in the Futures Game on Sunday at Target Field in Minnesota.
• Jeremy Hefner is due to pitch one inning in a minor-league game Saturday. It will mark his first game action since Hefner underwent Tommy John surgery on Aug. 28. Hefner had his procedure performed nearly two months earlier than Matt Harvey had his operation (Oct. 22).
• Rafael Montero has thrown live batting practice and is due to enter a game this week for the first time since suffering a left oblique strain and departing a Vegas game after five pitches on June 14.
• Dario Alvarez is now a two-time South Atlantic League Pitcher of the Week. The 25-year-old Savannah southpaw has not allowed an earned run in his past 22 innings, which spans seven appearances. Alvarez is 6-0 with one save and a 0.87 ERA in 16 appearances (six starts) this season.
The Mets credit Alvarez's success to cleaning up his delivery, which has improved his consistency and allowed him to throw more strikes. Alvarez had been released by the Phillies after spending three years in that organization, and the Mets' Dominican-based scouts recommended scooping him up.
• 2013 fifth-round pick Jared King returned to action in the Gulf Coast League on Saturday after recovering from a fractured right fibula. King had been sidelined since last appearing for Savannah on May 11.
• Savannah's winning streak ended at 11 on Tuesday afternoon when Dawrin Frias surrendered a tiebreaking ninth-inning homer to Augusta's Ryan Jones. Savannah has produced four 11-game winning streaks since 1993, but none has reached a dozen.
• Logan Taylor was due to join Savannah after three Gulf Coast League appearances. Taylor, an 11th-round pick in 2012 from East Oklahoma State College, underwent Tommy John surgery last July. He had a 2.67 ERA in seven starts for the Gnats in 2013.
• Princeton product Matt Bowman, whose delivery incorporates Tim Lincecum's style, made his Triple-A debut Saturday. He allowed two runs in 3 2/3 innings in a 64-pitch no-decision.
• Right-hander Cory Mazzoni has moved to Double-A, which should be a temporary stop en route to Las Vegas. Mazzoni is working back from a strained lat muscle suffered when he started the Mets' Grapefruit League finale this spring training. The 2011 second-round pick out of NC State has now appeared in three games -- one apiece in the Gulf Coast, Florida State and Eastern leagues -- since recovering.
• Rob Whalen, who was off to a torrid start with Savannah until developing an infection on his hand that required surgery to clean out, logged an inning Saturday in the Gulf Coast League. It was his first appearance in a game since May 1 with the Gnats. Whalen had been 4-0 with a 1.80 ERA in four appearances (three starts) with Savannah before the issue arose.
• Marcos Molina has tossed 19 consecutive scoreless innings for Brooklyn.
• Left-hander Kurt Horne, the Mets' 31st-round pick out of high school in British Columbia, is due to make his professional debut Wednesday.