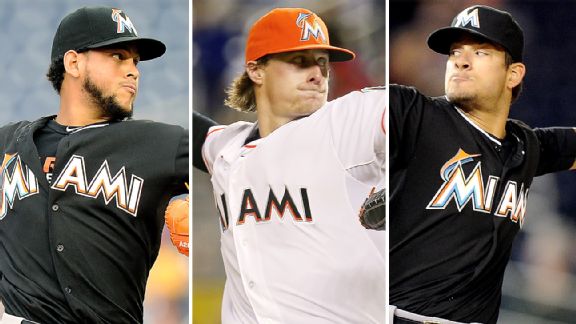 Getty Images
Before heading into the All-Star break, the Mets are due to face the Marlins' Henderson Alvarez, Tom Koehler and Brad Hand.METS (42-50, fourth place/NL East) vs. MIAMI MARLINS (44-47, third place/NL East)
Friday: RHP Zack Wheeler (4-8, 4.07) vs. RHP Henderson Alvarez (6-3, 2.27), 7:10 p.m. ET
Saturday: RHP Daisuke Matsuzaka (3-3, 3.32) vs. RHP Tom Koehler (6-7, 3.98), 4:10 p.m. ET
Sunday: RHP Jacob deGrom (2-5, 3.38) vs. LHP Brad Hand (0-1, 5.09), 1:10 p.m. ET
Marlins short hops
• Outfielder Marcell Ozuna has hit safely in 15 straight games, during which he has produced a .368 average (21-for-57) with three homers and eight RBIs. The hitting streak is one shy of matching his career high, produced last season. Ozuna's two-run homer against Addison Reed in the ninth inning on Tuesday gave Miami a 2-1 win at Arizona.
Of course, Ozuna had two outfield assists in the final two innings on June 20, during the last series against the Mets, in order to preserve a Miami win. He became the third player in Marlins history with two outfield assists at the plate in the same game, joining Joe Orsulak and Emilio Bonifacio. Like Orsulak, both of Ozuna's throws did not require a relay.
The 23-year-old Ozuna has 15 homers and 51 RBIs in 326 at-bats this season.
• Closer Steve Cishek blew only his third save in 23 chances Wednesday at Arizona. The Diamondbacks scored three runs in the bottom of the 10th, capped by Paul Goldschmidt's two-run double, in a 4-3 walk-off win. It marked the first time in Cishek's career that he failed to record at least one out in a save situation.
Associated Press, Getty Images
Christian Yelich, Marcell Ozuna and Giancarlo Stanton form a standout young triumvirate for the Marlins in the outfield.
• Giancarlo Stanton went hitless in 11 at-bats in the D-backs series and is 3-for-24 on the Marlins' current road trip. Stanton is the lone Marlins All-Star selection, despite strong candidacies from right-hander Henderson Alvarez and third baseman Casey McGehee. Stanton finished fourth in fan balloting in the outfield at 3,753,961 votes. He missed a chance to start by finishing 305,785 votes behind No. 3 Yasiel Puig.
Despite his recent slump, Stanton still leads the National League with 21 homers and 63 RBIs. His 4.9 WAR is second in the NL, trailing only Colorado's Troy Tulowitzki (5.7).
• Alvarez produced three hits Sunday against the St. Louis Cardinals. He is a career .269 hitter, with one homer and seven RBIs in 67 at-bats. On the mound, Alvarez is 4-0 with a 1.04 ERA since May 22. He has allowed only one home run during that nine-start span -- a solo shot by Kolten Wong on Sunday.
The Marlins have won Alvarez's last 10 starts, a franchise record. The previous record? The Marlins won nine straight starts by Chris Hammond back in 1993, their inaugural season, when they finished 64-98 overall.
Alvarez's 2.27 ERA ranks fourth in the league, trailing only St. Louis' Adam Wainwright (1.79), Cincinnati's Johnny Cueto (2.03) and L.A.'s Josh Beckett (2.26).
• McGehee's 112 hits are tied for the NL lead with the Mets' Daniel Murphy and Giants' Hunter Pence. The lone player in Marlins history to lead the league in hits at the All-Star break was Luis Castillo in 2002. McGehee and Stanton are the first Marlins teammates with 100 hits apiece before the All-Star break since Hanley Ramirez and Jorge Cantu in 2008.
After spending last year in Japan, the 31-year-old McGehee is hitting .320 with one homer and 53 RBIs in 350 at-bats this season. His 52 RBIs as a third baseman already are the most by a Marlin at that position since Cantu finished '08 with 70.
• Left-hander Brad Hand has made two starts since getting activated from the disabled list and entering the rotation July 3. He is winless in his past 14 appearances as a starter, the third-longest active streak in the majors, despite allowing only one unearned run in 6 1/3 innings on Tuesday at Arizona. His last win as a starter came July 7, 2011 against the Houston Astros.
Hand, who mostly has been ineffective while serving in long relief this season, had landed on the DL with a right ankle sprain.
• Two days after Hand returned from the DL, rookie Andrew Heaney was demoted to Triple-A New Orleans. Heaney had limited the Mets to one run in six innings in his major league debut on June 19, but had allowed 14 earned runs in 14 2/3 innings over his next three starts.
• Shortstop Adeiny Hechavarria (right triceps strain) returned from the disabled list on Sunday.
• Left fielder Christian Yelich is batting .356 (16-for-45) with one homer and five RBIs in 10 games since returning from the disabled list, where he had landed with a lower-back strain.
• After getting reinjured during the last Mets series, Rafael Furcal landed on the DL on June 22 with a left hamstring strain. Derek Dietrich initially took over at second base, but he landed on the DL on July 4 with a right wrist strain. Donovan Solano and Ed Lucas since have started at the position.