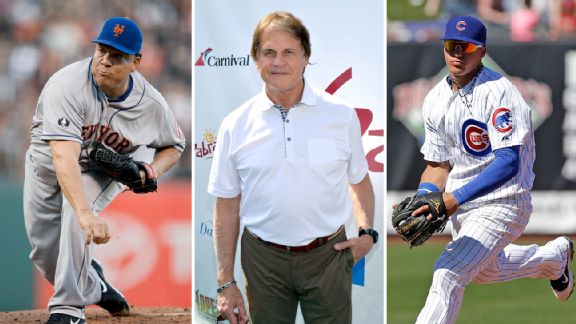 Getty Images, AP Images
The Mets will listen on trades involving Bartolo Colon, don't seem likely to make a deal with the D-backs now given Tony La Russa's newness, and could acquire Javier Baez, industry sources predict. NEW YORK -- The Mets will listen on trade proposals involving Bartolo Colon before the July 31 trade deadline and may ultimately end up dealing the 41-year-old right-hander.
Separately, their wish list in trades includes an upgrade at shortstop over Ruben Tejada and a power-hitting left fielder to join Juan Lagares and Curtis Granderson as the primary outfielders, according to industry sources.
The acquisition of highly regarded prospect Addison Russell in the trade for Jeff Samardzija and Jason Hammel gives the Chicago Cubs a glut of young shortstops. While that ultimately may lead the Cubs to deal Starlin Castro, who is signed through 2019 at salaries that escalate to $11 million, 21-year-old Javier Baez is believed to be a more realistic target for the Mets.
Baez is hitting .240 with 14 homers and 55 RBIs at Triple-A Iowa this season.
The Arizona Diamondbacks have seemed like a natural match for the Mets for a while given their excess shortstops, including Didi Gregorius. However, an industry source believes recently hired Tony La Russa remains in assessment mode and serious deals involving the D-backs may wait until the offseason.
Alderson also is expected to look for takers for outfielders Chris Young and Eric Young Jr. to solve the Mets' outfield glut, if that's possible.