NEW YORK -- Right-hander Cory Mazzoni was slated to be part of a standout Triple-A rotation to open the season with Noah Syndergaard, Rafael Montero and Jacob deGrom.
Instead, the honor of starting the Grapefruit League finale on getaway day for the Mets in Port St. Lucie, Fla., became a major setback for the 2011 second-round pick out of NC State.
With the Mets wanting to avoid using Bartolo Colon against the Nationals since he also was due to face them in his first regular-season outing, Mazzoni took the March 27 start at Tradition Field. He was forced to leave the game against Washington in the second inning because of what eventually was diagnosed as a right lat-muscle strain.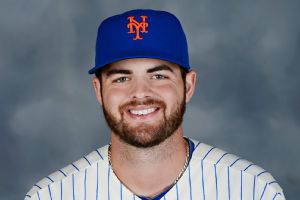 Courtesy of New York Mets
Cory Mazzoni
Only now is the 24-year-old Mazzoni due to head to Las Vegas.
In what was expected to be his final tune-up before joining the 51s, Mazzoni tossed seven innings for Binghamton at Erie on Saturday. That was his fourth minor-league appearance as he gets back into pitching shape.
"I thought it was going to be a couple-of-week thing," Mazzoni said. "It was tough being out that long, seeing all of your friends pitching well and stuff in Double-A and Triple-A. It's definitely tough to watch.
"You see what deGrom did in Triple-A and now he's in the big leagues, pitching really well. Obviously everything gets pushed back a little bit now. But you still have to keep the same mindset and you can't dwell on that."
Mazzoni went 5-3 with a 4.36 ERA in 13 appearances (12 starts) with Binghamton in 2013 before requiring season-ending surgery on Aug. 2 to repair a torn meniscus in his right knee.
Mazzoni's fastball sits at 92-94 mph. He also throws a slider and changeup. He is projected to pitch in relief in the majors.
"He's come with some high recommendations from the people in the organization that this kid can be an absolute late-in-the-game kind of bullpen guy, because he's got three quality pitches," Terry Collins has said.
Said Mazzoni: "I can always work on fastball command. I'm still developing my splitter. It needs to be a little bit more consistent. But my arm feels good, and I feel like my stuff is pretty good. It's just refining and tweaking it a little more."
Organization leaders
Average: Matt Reynolds, Vegas, .350; John Mora, GCL Mets, .338; T.J. Rivera, Binghamton, .336; Enmanuel Zabala, GCL Mets, .329; Oswald Caraballo, Kingsport, .323; Matt den Dekker, Vegas, .312; Dilson Herrera, Binghamton, .312; Jeff McNeil, St. Lucie, .312; Kevin Plawecki, Vegas, .308.
Homers: Dustin Lawley, Binghamton, 16; Andrew Brown, Vegas, 15; Brian Burgamy, Binghamton, 15; Allan Dykstra, Vegas, 12; Wilmer Flores, Vegas, 12.
RBIs: Allan Dykstra, Vegas, 59; L.J. Mazzilli, St. Lucie, 58; Brian Burgamy, Binghamton, 53; Wilmer Flores, Vegas, 53; Kevin Plawecki, Vegas, 53.
Steals: Patrick Biondi, Savannah, 19; Dilson Herrera, Binghamton, 17; Jeff McNeil, St. Lucie, 15.
ERA: Marcos Molina, Brooklyn, 0.94; Rob Whalen, GCL Mets, 1.67; Octavio Acosta, Brooklyn, 1.86; Kevin McGowan, St. Lucie, 2.14; Steven Matz, Binghamton, 2.41; Robert Gsellman, Savannah, 2.89; John Gant, Savannah, 2.97; Corey Oswalt, Brooklyn, 3.16; Matt Bowman, Vegas, 3.43; Darin Gorski, Vegas, 3.51.
Wins: Gabriel Ynoa, Binghamton, 10; John Gant, Savannah, 9.
Saves: Chasen Bradford, Vegas, 12; Robert Coles, St. Lucie, 12; Randy Fontanez, Binghamton, 10; Akeel Morris, Savannah, 8.
Strikeouts: Darin Gorski, Vegas, 96; Dario Alvarez, Savannah, 89; Steven Matz, Binghamton, 87; Matt Bowman, Vegas, 85; Noah Syndergaard, Vegas, 82.
Short hops
• First-round pick Michael Conforto is due to head to Los Angeles for Thursday's Golden Spikes Award. Conforto, who officially signed on Friday after a standout career as an outfielder at Oregon State, is one of three finalists for the award, which goes to the nation's top amateur player. The winner will be revealed on "SportsCenter." The other finalists are LSU right-hander Aaron Nola (selected seventh overall by Philadelphia) and Kentucky left-hander/infielder A.J. Reed (a second-round pick by Houston). Conforto is due to rejoin the Brooklyn Cyclones on Friday and should make his professional debut shortly thereafter.
• Matt Reynolds has continued his offensive surge since a promotion to Triple-A. In 24 Pacific Coast League games, the former second-round pick out of Arkansas is hitting .337/.389/.453. Not known for being accomplished defensively, Mets personnel nonetheless say he is showing better range at shortstop than Ruben Tejada and Omar Quintanilla possess. That's not a terribly high bar, but suggests he may be viable at the position in the majors.
• Allan Dykstra, who won Monday's Triple-A Home Run Derby in Durham, N.C., topped a familiar face in the finals. Former Mets minor-league teammate Francisco Pena finished as the runner-up.
Pena, a catcher like his All-Star father Tony Pena, left the Mets last offseason as a minor-league free agent and signed with Kansas City. The 24-year-old Pena made his major league debut on May 20, catching the final inning, but was returned to Triple-A Omaha without a plate appearance. He did throw out the first would-be base stealer against him. His father formerly managed the Royals and his brother Tony Jr. played there. He is hitting .254 with a career-high 18 homers and 40 RBIs in 205 PCL at-bats this season.
Dykstra will serve as the PCL's DH for Wednesday's Triple-A All-Star Game.
• The Eastern League All-Star Game also will be played Wednesday night. Representing Binghamton at Altoona, Pa.: infielder Brian Burgamy, outfielder Kyle Johnson and right-handers Cody Satterwhite and Jon Velasquez.
• Left-hander Blake Taylor, the player-to-be-named acquired from Pittsburgh with Zack Thornton in the April 18 trade for Ike Davis, has been promoted from the Gulf Coast League to Kingsport. Taylor, who turns 19 on Aug. 17, made three GCL appearances. In 10 2/3 innings, he allowed two unearned runs and one hit while walking seven and hitting a batter. In his K-Mets debut Monday, Taylor was pulled one out into the third inning. He was charged with four earned runs on six hits and two walks.
• Binghamton right fielder Travis Taijeron has been named Eastern League Player of the Week. For the week ending Sunday, the 25-year-old Taijeron hit .400 (8-for-20) with three homers and 10 RBIs and had a league-leading .900 slugging percentage. The former 18th-round pick out of Cal Poly Pomona is hitting .251 with 11 homers and 46 RBIs in 227 at-bats this season with the B-Mets.
• Binghamton reliever Hamilton Bennett, 26, was released by the organization last week. The former 29th-round pick in 2010 out of Tennessee Wesleyan College had produced a 3.38 ERA in 10 appearances with Double-A Binghamton this season. A Mets official said the release came at Bennett's request.
• Montero is nearing a return to Vegas. He tossed four scoreless innings for Class A St. Lucie on Monday. Five days earlier he had logged two innings in the Gulf Coast League. Montero had been sidelined since leaving a Triple-A start on June 14 after only five pitches with a strained left oblique.
• Catcher Ali Sanchez, right-hander Adonis Uceta and infielder/catcher Victor Moscote represent the Mets on the Dominican Summer League All-Star team.