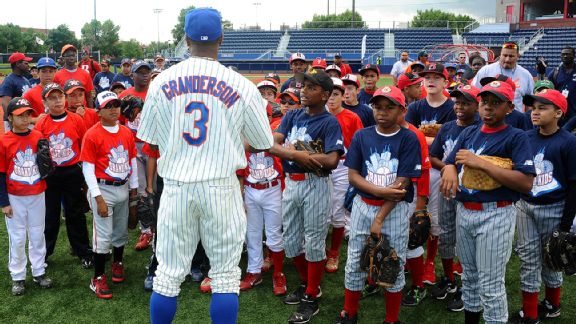 Courtesy of New York Mets
Curtis Granderson hosted a youth clinic Wednesday in Chicago at a stadium bearing his name.NEW YORK
FIRST PITCH: Tomorrow, tomorrow …
The second half is only a day away.
The Mets resume their season on Friday at 10:10 p.m. ET at Petco Park in San Diego. Bartolo Colon (8-8, 3.99 ERA) opposes right-hander Ian Kennedy (7-9, 3.47).
Read the Mets-Padres series preview here.
Thursday's news reports:
• Columnist David Lennon in Newsday assesses what Sandy Alderson ought to do at the trade deadline. Writes Lennon:
The determining factor there will be the market for Colon and [Daniel] Murphy, two players that could be very attractive to contending clubs -- and not necessarily cripple the Mets' own chances. Colon's contract, with $11 million coming to him next season, was practically designed to be moved. While he's been a solid placeholder for [Matt] Harvey, the Mets are now finding others pushing for permanent spots, like [Jacob] deGrom, and before too long, Noah Syndergaard. …
As for Murphy, it's strange that the Mets' lone representative at the All-Star Game may not even be on the team by August. But the argument to deal him may just be too compelling for Alderson to pass up -- peak value, a big arbitration bump this winter and a waiting replacement in Wilmer Flores, who is raking at Triple-A Las Vegas with a .368/.405/896 slash line over his last 10 games, including six homers.
• Mike Puma in the Post asks five questions for the second half.
• Marc Carig in Newsday looks at Travis d'Arnaud's turnaround after a demotion to Las Vegas. Upon joining the Triple-A club, d'Arnaud had a two-hour meeting with Wally Backman, hitting coach George Greer and pitching coach Frank Viola.
"He just needed to slow things down and understand that he was good enough to be who they wanted him to be," Viola told Carig. "But he had to be good enough for him first. He was putting so much undue pressure on himself that he just had to take a little time to step back."
Said d'Arnaud: "If I have a good at-bat, I'm happy now. Before, if I had a productive out, if I lined out, I would get on myself so much because I was so worried about getting a hit. It helps me to stay even-keeled."
• The Mets project attendance to rise over 2013, when they officially drew 2.14 million fans, Steven Marcus writes in Newsday.
"Halfway through the year we have our slight uptick in attendance already," chief revenue officer Lou DePaoli told the newspaper. "So, now it's a matter of what kind of hay we can make the rest of the season. The team has been playing well and the fans have reacted just in the last week or so. You saw some pretty nice crowds toward the end, and I'm sure if the team continues to play at that level we'll see more increased interest."
• Also in Newsday, Carig writes about young players fueling the Mets' ascent, three key players for the second half and three key questions.
• Anthony DiComo at MLB.com assesses the state of the Mets as they enter the second half.
• Kristie Ackert in the Daily News hands out grades.
• Curtis Granderson and his Grand Kids Foundation hosted a baseball clinic at Curtis Granderson Stadium at the University of Illinois at Chicago on Wednesday. Granderson recently contributed $5 million toward the college stadium, which also hosts Chicago youth organizations.
• Matt Ehalt in the Record reviews prospects who could be called up in the second half.
• Ehalt in the Record also looks at Granderson's successful conclusion to the first half after a Jason Bay-like start to his Mets career. Granderson is hitting .274 with 13 homers and 36 RBIs since May 1.
• Allan Dykstra went hitless in three at-bats as the DH as the Pacific Coast League lost the Triple-A All-Star Game, 7-3, at Durham, N.C. Binghamton outfielder Kyle Johnson went 2-for-2 in the Eastern League All-Star Game, but his East squad lost, 5-2. Wuilmer Becerra went 5-for-5, but Kingsport lost to Burlington, 4-3. Taylor Teagarden caught all five innings in a rain-shortened win by the Gulf Coast League Mets. Read the minor-league recap here.
• Binghamton prospect Brandon Nimmo chats with WBNG.
• From the bloggers … Blogging Mets thinks Jacob deGrom has pushed his way into the Rookie of the Year conversation.
BIRTHDAYS: The late Roy McMillan, a former shortstop for the Mets, was born on this date in 1929.
TWEET OF THE DAY:
I'm going through serious @Mets withdrawals, and a 10:00 pm start on Friday is only adding insult to injury. #Mets

— Will Beekman (@WillBeekman) July 17, 2014
YOU'RE UP: Will the Mets sweep the Padres?