SAN DIEGO -- Josh Edgin had a simple explanation for his inability to field Seth Smith's two-out chopper in the bottom of the ninth, which allowed Cameron Maybin to score the winning run.
"I stumbled," Edgin said after San Diego's 2-1 win Sunday at Petco Park. "It's one of those things. It just happened to be at the end of the game where it kind of meant a little more."
Edgin noted that his mechanics initially took him away from the two-hopper, which traveled just to the first-base side of the mound.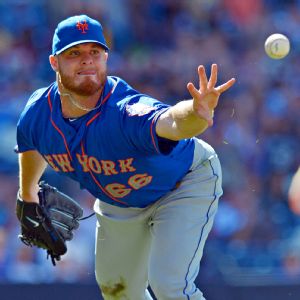 Jake Roth/USA TODAY Sports
Josh Edgin's shovel throw to first base is too late after he initially stumbled on Seth Smith's chopper.
"I fall off to the third-base side, so when I turn around I've got to pick the ball up," the southpaw said. "It's one of those no-man's-land plays, for me anyway. It just happened."
Even after stumbling on top of the ball, Edgin still had a chance to retire Smith at first base and force extra innings. But he did not initially pick up the ball cleanly. His eventual shovel throw was too late.
"I rolled over it and it was on the ground," Edgin said. "When I went down to snatch it, I missed it. If I would have got it the first time I would have got him out."
Daniel Murphy said he was unsure what would have happened if Edgin had not touched the ball and had given the second baseman an opportunity to make the play.
"It's tough to say," Murphy said. "Do I have a shot? Yeah. I don't know how good of a one it is, because once he kind of hit it, I was unable to judge the velocity of the ball. Until it gets past the pitcher's mound, I can't tell exactly how hard it is."
Edgin's faux pas wasn't the only pitcher fielding letdown in the decisive ninth inning.
After issuing a leadoff walk in the ninth to Carlos Quentin, Vic Black misplayed Alexi Amarista's sacrifice-bunt attempt to put two men on base with none out. Quentin had been replaced by Maybin as the pinch runner.
"I kicked my glove and I just missed it," Black said. "I was thinking two off the mound and I heard, 'One.' I got in a hurry and literally kicked my glove over the ball."
Black noted that pitcher fielding practice is something he does earnestly.
"It's definitely something I don't take lightly," he said.
He more lamented the leadoff walk.
"The walk is what killed me," Black said. "Those leadoff walks are tough."