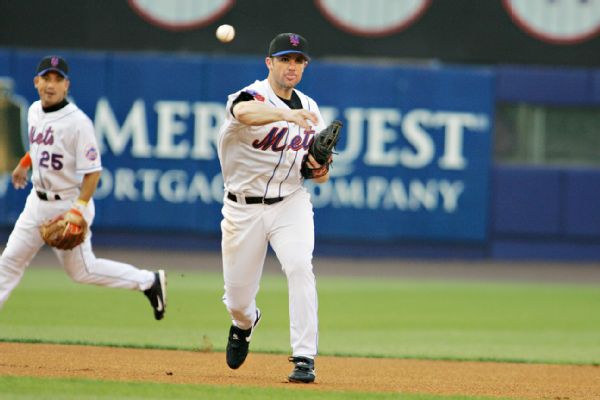 Keith Torrie/Getty Images
David Wright made his major league debut in this July 21, 2004 game against the Montreal Expos at Shea Stadium. He went 0-for-4.SAN DIEGO
FIRST PITCH: The captain celebrates an anniversary on Monday.
David Wright made his major league debut on July 21, 2004 against the Montreal Expos at Shea Stadium, ending a revolving door at third base for the franchise.
The Mets' lineup that day?
Jose Reyes, 2b
Kazuo Matsui, ss
Ty Wigginton, 1b
Cliff Floyd, lf
Richard Hidalgo, rf
Mike Cameron, cf
Wright, 3b
Vance Wilson, c
Jae Weong Seo, rhp
Wright had been drafted by the organization three years earlier with a compensatory pick (38th overall) for losing Mike Hampton as a free agent to the Colorado Rockies.
The Mets open an interleague series on Monday in Seattle at 10:10 p.m. ET. Jonathon Niese (5-4, 2.96 ERA) returns from the disabled list to face Cuban rookie left-hander Roenis Elias (7-8, 4.54).
The Amazin's lone other trip to Safeco Field came in 2005.
The Mariners staff includes ex-Mets Howard Johnson, Chris Woodward and Jason Phillips.
Read the Mets-Mariners series preview here.
Monday's news reports:
• Odrisamer Despaigne held the Mets hitless until Daniel Murphy produced a two-out double in the eighth. The Mets tied the score that inning on Wright's RBI single. However, the Amazin's lost, 2-1, in walk-off fashion when Josh Edgin stumbled on a chopper off the bat of Seth Smith and could not complete the out at first base in time. Zack Wheeler limited his opponent to one run and logged at least six innings for the fourth straight start. The Mets dropped eight games back in the NL East.
Read game recaps in the Post, Daily News, Newsday, Star-Ledger, Record, Times, Journal and at MLB.com.
• Read more on Wheeler in the Post.
• With Niese (shoulder strain) coming off the disabled list, Daisuke Matsuzaka is relocating to the bullpen and Buddy Carlyle was designated for assignment. Read more at MLB.com and in the Daily News.
• Although the Mets are receptive to trading Bartolo Colon, the buzz in San Diego was that no scouts were specifically there to see the veteran righty on Friday, signaling limited interest. Writes Mike Puma in the Post:
According to a source, as of Sunday the Mets had not yet received even a nibble on the 41-year-old right-hander, who is expendable because of the club's starting-pitching depth. Over his last four starts, Colon is 0-3 with a 5.88 ERA. That comes after a strong June in which Colon helped carry the Mets rotation by going 4-1 with a 2.57 ERA.
• Columnist Michael Powell in the Times takes the Mets' temperature.
• Wilmer Flores extended his hitting streak to 21 games and Rafael Montero allowed one run in four innings in his return to Triple-A following a left oblique strain, but Las Vegas lost to Salt Lake, 3-0. Brian Burgamy had two homers and Dustin Lawley also went deep in Binghamton's 5-2 win against Trenton. John Gant took a no-hit bid into the sixth inning and Savannah ultimately swept Lexington in a doubleheader. Corey Oswalt tossed seven scoreless innings as Brooklyn blanked Williamsport, 6-0. Read the full minor-league recap here.
• There are no plans to promote Flores to the majors anytime soon, Terry Collins said. Read more in the Star-Ledger and Newsday.
• Bobby Abreu is expected to serve as the designated hitter for the final two games in Seattle.
BIRTHDAYS: Former Mets player and manager Mike Cubbage turns 64. He currently is a scout for the Tampa Bay Rays ... Mike Bordick is 49.
TWEET OF THE DAY:
I'll wait until after they blow both series with the Mariners + the Brewers before being convinced this is the typical post ASG slide #Mets

— Ken Marston (@NeoBhagwan) July 20, 2014
YOU'RE UP: Have the Mets eroded your optimism with their performance in San Diego?