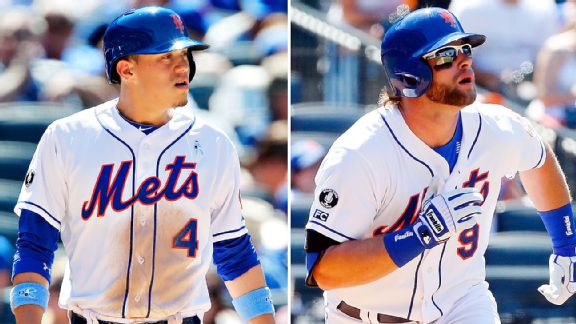 Getty Images
Wilmer Flores and Kirk Nieuwenhuis are due for increased playing time.PHILADELPHIA -- While not conceding this season, the Mets finally have shifted into a mode in which the priority is to gauge players' ability to contribute in 2015.
As a result, Wilmer Flores and Kirk Nieuwenhuis now are expected to get serious looks, Terry Collins said before Friday's series opener against the Philadelphia Phillies. That will come at the expense of Ruben Tejada and Chris Young.
Collins said the plan came as the result of a conversation Thursday with Sandy Alderson.
Lucas Duda also will be afforded the opportunity to prove he can handle left-handed pitching. So he will get a chance Saturday to start against southpaw Cole Hamels, according to Collins. Eric Campbell started in New York against Hamels over Duda during the Mets' last homestand.
Collins said the Flores decision boils down to wanting to determine whether he can play shortstop at the major league level.
"Everybody has said they think he's going to hit," Collins said. "Now, how much is he going to hit? Is he going to hit for power? Or is he going to hit for average? And the big question is: Is he going to be able to play the middle of the infield. You guys have written it many times. That's going to be the question. So the only way to find out is to put him out in the middle of the infield. We're in a situation right now where we want to find out.
"Obviously he is not the prototypical, rangy shortstop, but he has shown a strong arm. He's shown good hands."
Meanwhile, Collins agreed that Tejada profiles as a very good backup middle infielder. But there are no immediate plans to expose Tejada to second base again, according to the manager. Flores would play second base and Tejada shortstop if Daniel Murphy was not in the lineup.
"We don't know what's going to happen, so I need to expose him to both sides," Collins said about Flores.