NEW YORK
FIRST PITCH: Seven hits!
The Mets' string of games producing four hits or fewer ended at five straight on Tuesday -- tied for the longest streak in the majors since 1900.
The Amazin's streak of facing aces will continue.
Zack Wheeler (8-8, 3.49 ERA) opposes former Chicago Cubs right-hander Jeff Samardzija (5-9, 2.96) in the finale of an abbreviated series in Oakland at 3:35 p.m. ET Wednesday.
Wheeler is 5-0 with a 2.02 ERA in his past nine starts.
Wednesday's news reports:
• Dillon Gee walked light-hitting No. 9 batter Eric Sogard with two outs in the fourth ahead of a three-run triple by Coco Crisp and Scott Kazmir and the A's went on to beat the Mets, 6-2, Tuesday. Gee is now 0-5 with a 5.71 ERA in seven starts since the All-Star break.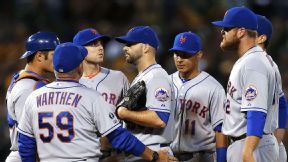 Ben Margot/Associated Press
Dillon Gee had a costly walk to Eric Sogard in a four-run fourth by the A's.
"I lost command of my breaking ball there for a couple of innings and it really hurt me," Gee told reporters postgame.
Josh Reddick added a two-run homer in the eighth against Gonzalez Germen, who was called up while Bartolo Colon is on bereavement leave.
Travis d'Arnaud homered, but it was another quiet hitting day by the Mets, who had Daniel Murphy resting and Curtis Granderson in the No. 2 hole as part of Terry Collins' lineup shakeup.
Oakland snapped a five-game losing streak.
The Mets (59-68) are nine games under .500 for the first time since July 7.
Read game recaps in the Post, Daily News, Star-Ledger, Newsday and at MLB.com.
• Jacob deGrom faced batters during a throwing session Tuesday in Oakland and has been declared ready to return from the disabled list on Saturday at Dodger Stadium. With deGrom poised to be activated, Rafael Montero could get bullpen action Wednesday against the A's. The Mets won't need to make a roster move until Saturday to clear space for deGrom. And if Colon isn't activated until Sunday, Germen could go first. Read more in the Post, Daily News, Newsday, Star-Ledger and at MLB.com.
• Jenrry Mejia "has expressed dismay to confidants in recent days about the fact he has been used lately in several non-save situations, but before the Mets faced the Athletics on Tuesday said he's on the same wavelength with manager Terry Collins and pitching coach Dan Warthen," Mike Puma writes in the Post.
• Kirk Nieuwenhuis was unavailable Tuesday because of a stiff neck.
• Danny Muno had a three-run homer as part of a three-hit night as Las Vegas beat Omaha, 10-4. Michael Fulmer allowed six runs in 3 1/3 innings in his Double-A debut as Binghamton was shut out at Erie, 7-0. Victor Cruzado homered and drove in four runs in Savannah's 11-3 win against Rome. Read the full minor-league recap here.
• Jared Diamond in the Journal contrasts the Mets and A's, who have similar payrolls and disparate success. Writes Diamond:
As previously reported by the Journal, teams throughout history with a $100 million player taking up more than 20% of the payroll have a cumulative winning percentage of .455.
The A's don't have that problem. Their highest-paid player on opening day, outfielder Yoenis Cespedes, was due $10.5 million this year, which represented around 12.8% of the payroll. Their three highest-paid players -- Cespedes, reliever Jim Johnson and starter Scott Kazmir -- made up 35.8% of the payroll. (Cespedes was traded to Boston for [Jon] Lester last month.)
• Mike Vorkunov in the Star-Ledger chronicles Kazimr's path from prominence to independent ball and back to prominence.
• Marc Carig in Newsday speaks with Lucas Duda about his success at the plate.
• From the bloggers …Blogging Mets wonders when and why run differential became so important.
BIRTHDAYS: St. Lucie reliever Robby Coles turns 23. ... Cory Sullivan is 35. ... Lance Broadway is 31.
TWEET OF THE DAY:
You're not a true #Mets fan unless you stay up for the entire game and cry yourself to sleep afterwards

— Marsha Landar (@MARSHALANDAR) August 20, 2014
YOU'RE UP: What lineup change would you most like to see to inject some life in the offense?