NEW YORK -- Enjoy last place, Philly!
Anthony Recker produced a tie-breaking three-run homer against A.J. Burnett in the sixth inning Sunday, and the New York Mets held on to beat the Philadelphia Phillies 6-5 at Citi Field.
The Mets completed the season series with a 13-6 record against the Phillies. That matches the most wins in a season against Philadelphia in franchise history. The Mets went 13-5 against the Phillies in 1970, '71, '72 and '87.
The victory prevented the Mets (64-73) from dropping into last place in the NL East for the first time since June 27.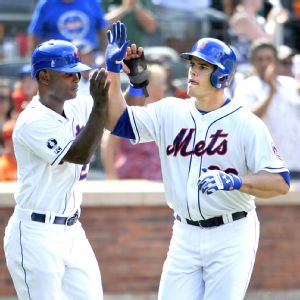 Kathy Kmonicek/Associated Press
Anthony Recker receives congratulations after delivering a tie-breaking three-run homer in the sixth inning.
Recker, whose three-run shot staked the Mets to a 5-2 lead, now has 12 career long balls. Nine of those home runs have tied the score or given his team a lead, including four of five this season.
Jeurys Familia surrendered a solo homer to Domonic Brown in the eighth inning as Philadelphia (62-74) pulled to within 5-4. Dilson Herrera's first career RBI in the bottom half of the inning restored a two-run cushion for Jenrry Mejia, who needed the insurance. Mejia notched his 21st save despite allowing a run in the ninth.
In the seventh, Dana Eveland allowed a runner inherited from starter Dillon Gee to score, but left a pair of Phillies in scoring position by retiring Chase Utley on a pop-out and consecutively striking out Ryan Howard and Grady Sizemore.
Not him again: Gee must have nightmares about Howard, right? Howard's solo homer in the sixth against Gee evened the score at 2. Earlier, Howard's RBI double in the fourth opened the game's scoring -- although Gee left the bases loaded in that frame by coaxing a double-play grounder from Wil Nieves.
Howard is hitting .423 with seven home runs and 16 RBIs in 26 career at-bats against Gee.
Howard also is the active leader in long balls against the Mets with 41, ahead of a pair of his Phillies teammates -- Utley (33), and No. 3 Jimmy Rollins (30).
Gee entered Sunday's start with a 6.53 ERA in 13 career appearances (12 starts) against the Phillies. He departed with a 5-2 lead after walking Freddy Galvis to open the seventh. Gee's final line: 6+ IP, 7 H, 3 R, 3 ER, 3 BB, 7 K, 1 HR.
Halted! David Wright snapped a career-high 14-game RBI-less drought when his two-out single in the sixth against Burnett plated Matt den Dekker and staked the Mets to a 2-1 lead. Wright's previous high without an RBI had been 13 straight games in Aug. 2010.
Wright's hit also gave the Mets seven in the game. That snapped a streak of 10 straight games at Citi Field with six hits or fewer, which had matched the longest home streak in the majors since 1900, according to the Elias Sports Bureau.
Den Dekker's RBI double had pulled the Mets even at 1.
Three cheers: Wilmer Flores went 3-for-4 and also recorded his first career stolen base, although a good throw from the Nieves would have nailed him at third base. It marked the third time Flores produced that career-high three-hit total.
What's next: The Mets head to Miami for a three-game series. Zack Wheeler (9-9, 3.44 ERA) opposes right-hander Henderson Alvarez (10-6, 2.75) in the 1:10 p.m. opener on Labor Day. Wheeler is 2-0 with a 0.65 ERA in four starts against the Marlins this season.