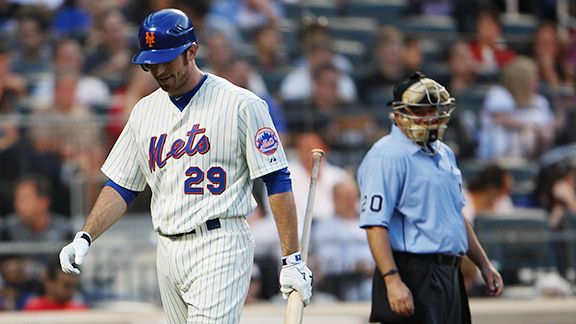 Andrew Burton/Getty Images
Ike Davis was among many Mets who had an August to forget.
I've done these pieces now to review May, June, and July previously, and I can tell you that the August version of this month-in-review feature was by far the most difficult one to write.
That's because the Mets for the most part were a team that was statistically uninteresting. They tried to put on the face of a postseason contender, but did nothing to merit that billing in terms of their offense, which was mostly non-existent, and their decision-making, which left something to be desired.
But on we must plod, and we offer up the following evaluations for the month that will best be remembered for off-the-field struggles (see Francisco Rodriguez) than those on the diamond.
The Mets Never Went Streaking
The Mets did something rather remarkable in August. They played an entire calendar month without winning or losing more than two consecutive games.
The folks at Elias looked into this at our request and we found that such an unusual feat has precedent (doesn't everything in Mets history?). The Mets have now had five such months in their 49 seasons
Months Without W/L Streak of 3+
Calendar Month, Mets History
However three of those, including the most recent in 1982, occurred in April, and were in months in which baseball was shortened by at least six days, since Opening Day didn't necessarily come at the very beginning of the month.
The most legit claim to a month of this nature would be September, 1968, in which the Mets went 10-13, without ever winning or losing more than two straight.
The Mets aren't scoring
August marked only the third time in the last 20 seasons that the Mets had a calendar month in which they averaged fewer than three-runs-per-game. The other two: August of 1991, which marked the beginning of the end of the Mets run of success that spanned the previous seven seasons, and September, 2003, the end of a disastrous season in which little went right.
The Mets didn't have a player reach the 10-RBI mark for the month this season until Angel Pagan did on August's next-to-last day. They hit below .235 for the second straight month, finishing with a slashline of .233/.303/.329. At least they're not the 1963 Mets, who went sub-.235 in four straight months.
David Wright and Ike Davis
August Analysis
Any way you spin the numbers, they're pretty grim (we joked last week with someone that R.A. Dickey, now 4-for-12 with runners in scoring position this season, might be the most dangerous hitter on the team).
Most troubling is this: Inside Edge compiles a stat for major league teams called "well-hit average" which means exactly what it says—what percent of the time does the batter hit the ball "well."
Admittedly, I've been a little skeptical of this stat, since it is based solely on human judgment, but decided to give it a run-through to see what it said about the Mets this past month.
The biggest takeaway I took from my "well-hit" lookups: David Wright and Ike Davis had very rough months.
We'll define a "loud out" as one in which a hitter gets credit for a "well-hit" ball from Inside Edge's scouts.
The average major leaguer makes a "loud out" about one of every 10 times he makes an out, and one out of every seven outs on balls that were hit into play.
As you'll see in the accompanying chart, both David Wright and Ike Davis were not anywhere close to those rates for the month, numbers far from their norms. Both hit the ball softly much more frequently than is needed out of hitters of their type.
Johan Santana got his strikeout touch back
Johan Santana had another one of those months—six starts, a 2-4 record, but with a very respectable 2.72 ERA. Among the other items of note:
Johan Santana
2-strike pitch selection
- Santana matched his total for most strikeouts in a month as a Met (47 in September, 2008)
- He had 28 strikeouts with his changeup, matching the total he had in May, June, and July combined. This might have something to do with Santana increasing his changeup frequency, particularly with two strikes. In August, he had success with his two-strike changeup, so he threw it nearly half the time.
Johan Santana
Two-Strike Changeups
- Threw 18 two-strike sliders, with which he got eight strikeouts and allowed no hits, and only one ball put into play.
Mike Pelfrey may have figured it out
We're not fully committed to the idea that Mike Pelfrey is back to the version we saw in April, considering that two of his better performances came against the Pirates and Astros, but we're not covering our eyes when he pitches any more.
What jumped out at us the most? Much like with Santana, Pelfrey has gotten back to a more acceptable performance level with two strikes.
During the 10-start horrific stretch from June 13 to August 4 (in which Pelfrey had a 7.35 ERA and .394 opponents batting average), opponents hit .367 with two strikes. In other words, their batting average matched that of Ty Cobb's storied career. That's scary.
Mike Pelfrey
2-strike split fingered fastball
They also reached base 42 percent of the time, and two-strike slugged to the tune of a frightening .567. That's right around what Larry Walker slugged for his career.
Something closer to normalcy reemerged in these last four outings, in which Pelfrey's two-strike slashline is .214/.241/.321.
Key to that: Pelfrey's splitter, one that he's thrown less frequently with two-strikes, but more effectively. Pelfrey's numbers with his splitter, seen in our accompanying chart, are much more a match for the good Pelf than the bad one.
Almost a milestone
Oliver Perez not withstanding, the Mets had a pretty good month from a pitching perspective and they came oh-so-close to a rather nice milestone.
Had the bullpen been able to finish the scoreless, work Pelfrey did in the first eight innings, the Mets would have had their fifth shutout of this calendar month.
Five is a big deal from a historical perspective in that the Mets have only done that twice since the 1986 season began—in May, 1988 and May, 1996.
Alas though, much like success in this month, it proved to be an unreachable achievement.