NEW YORK -- Long Islander Steven Matz grew up a Mets fan. On Monday at Citi Field, the 23-year-old southpaw was honored by the organization in a pregame ceremony as the organization's minor league pitcher of the year.
Matz took a no-hit bid into the eighth inning in the clinching Game 3 of the Eastern League Championship Series as Double-A Binghamton won its first title in 20 years.
"It was pretty awesome," Matz said. "The best feeling was just feeling how I could just command all of my pitches. Some days you're just going to have it like that. That was the perfect day to have it -- in the championship game. I just felt really confident out there."
Said Sandy Alderson, who was in attendance for the clincher in Binghamton: "You don't see a left-hander sitting 93-94 mph consistently with the assortment of pitches that he has. He was great this season. He's very definitely on the short list at this point."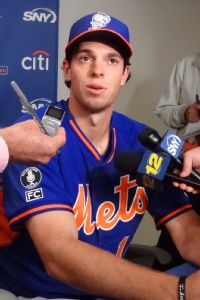 Adam Rubin
Steven Matz was recognized at Citi Field on Monday as the top pitching performer in the organization for 2014.
Matz started the clinching game for a second straight year. In 2013, he started for low-A Savannah in its South Atlantic League clincher.
This time, Matz allowed a pair of one-out singles in the eighth and was pulled with his pitch count at 105. He received a no-decision when a runner inherited by Hansel Robles scored. An inning later, the B-Mets posted a walk-off 2-1 win on Jayce Boyd's RBI double.
"It was like 5,000 or 6,000 people -- standing room only. They were in it from pitch one," B-Mets outfielder Brandon Nimmo said about Friday's clincher. "Matz, obviously, absolutely did amazing. He was hitting on all cylinders that night. He really gave us a chance. We made the game exciting at the end, but we got that clutch hit that you need to win championships."
Asked if he would have been allowed to continue had he not allowed the singles, Matz said: "I don't know. No one said anything. No one talked to me. I just kept on going back out there."
Overall, Matz went a combined 10-9 with a 2.24 ERA in 24 starts for Class A St. Lucie and Binghamton. The Stony Brook native's biggest strides have come with his curveball.
"Definitely my curveball has come a long way from last year," Matz said. "I feel a lot more confident throwing it early in the count and putting hitters away with it when I'm ahead in the count. It's almost like I can have two gears with it now, versus last year I was just flipping it in there and hoping for the best. Now I'm starting to have a little confidence in it."
Matz is on the 40-man roster. Still, with him having logged 34 more regular-season innings than 2013, there was no thought of a September call-up after Binghamton's season ended -- especially since Matz missed two years after getting drafted because of a lengthy recovery from Tommy John surgery.
Asked if he had anything left to polish, Matz said: "The fastball command can always get better. The breaking ball can always get better. The changeup, too. Everything just needs a little bit more polish. And learning how to pitch hitters and set them up, and knowing which hitters I'm facing, would help me as well."
The Mets are very deep in starting pitching. So if Matz is not used in an offseason trade, he likely is ticketed for Triple-A Las Vegas to open next season.
Still, Alderson said, Matz will be on the "short list" of candidates vying for a major league rotation spot in spring training. There is no real consideration of shifting him to the bullpen to introduce him to the majors.
"I think we'd be reluctant to put him in the pen," Alderson said. "I mean, it's a possibility, but you try to go into the season eight or nine deep with starting pitching that you can rely on. He would certainly be in that mix at this point. Taking him out of that mix so that he's not lengthened out and not ready to go if something were to happen, as it always does, it's unlikely."