NEW YORK -- Matt Reynolds is due to depart for the Arizona Fall League on Oct. 1. He likely would have been a September call-up to the majors instead had the Mets not had so much of a 40-man roster crunch.
The 23-year-old Reynolds, who primarily has been used at shortstop, hit a combined .343 with six homers, 61 RBIs and 20 steals and had a .405 on-base percentage while splitting the season between Double-A Binghamton and Triple-A Las Vegas.
Reynolds, like catcher Kevin Plawecki, was selected out of college in the 2012 draft. As a result, they do not need to be added to the 40-man roster this winter. And the Mets did not want to tie up roster spots for the duo given the organization already will not be able to protect all of the Rule 5 draft-eligible prospects it would like to shield.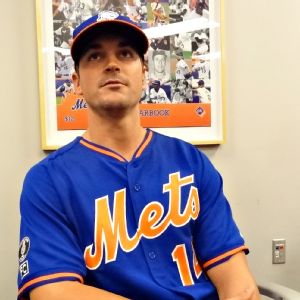 Adam Rubin
Matt Reynolds hit .343 in the minors this season.
Reynolds was selected in the second round out of the University of Arkansas.
"We've got a lot of good players in the minor-league system right now," Sandy Alderson said. "We've got probably more eligible for the Rule 5 draft than we can protect. So we've got to be a little bit selective. They've come a long way in a short period of time. It is a positive and, ultimately, administratively it's a little bit of a negative."
Reynolds -- who was honored at Citi Field on Monday as the top performer with Las Vegas -- is not a gifted shortstop range-wise, but a Mets official said he has displayed passable lateral mobility.
Playing on the hard infield in Las Vegas certainly provides a test for any young infielder.
"It's quick. It's really fast," Reynolds said. "It makes you have to be ready early. You may not play on that fast on an infield in the big leagues, but it definitely prepares you for the balls coming at you a lot harder in the big leagues."
Reynolds batted only .226 in 433 at-bats at Class A St. Lucie in 2013. He attributes the 117-point leap in average to a disciplined approach.
"I was trying to go to right-center with the fastball," Reynolds said. "That way, I could recognize off-speed a lot better. I tried to do that every single day and it really helped out."
Reynolds indicated he understood getting bypassed for the September call-up.
"That's how this game works," he said. "You can't really get down on yourself because of that. I kind of figured something like that was going to happen. I'm not mad about it at all. It's all a business decision. … I'm just trying to put pressure on them to make a move. I think I did a good job of that this year."