NEW YORK -- 2011 first-round pick Brandon Nimmo's batting display at Citi Field pregame Monday left general manager Sandy Alderson impressed.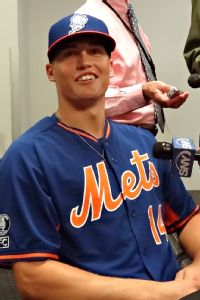 Adam Rubin
Brandon Nimmo chats at Citi Field on Monday.
Nimmo, now 21 years old, spent last offseason bulking up at the IMG Academy in Bradenton, Florida. The extra heft -- he's now about 205 pounds -- showed.
Nimmo produced 10 homers while hitting .278 and producing a .394 on-base percentage between St. Lucie and Binghamton this season.
He was honored at Citi Field on Monday as the top performer with the Florida State League club in 2014.
"Did you see his batting practice today?" Alderson asked. "There was a lot more man there than there was a year and a half ago. He's continued to be a very good player across the board. I think the two things I take away from his season: No. 1, he's continued to exercise great judgment at the plate. But I think the last half of the season he's also demonstrated a lot more power and turned on the ball more consistently. So he's continued to do well what he's done in the past and he's starting to develop the kind of power that we like to see in an outfielder."
Said Nimmo: "Obviously I'm older, and that makes a big difference. But I do think the offseason and the training we put in and the nutrition, I think all of that came into what you saw this year -- a little bit more power, a little bit more body control, better swing. I am a lot stronger than I was a year ago. It's helped me out a ton."