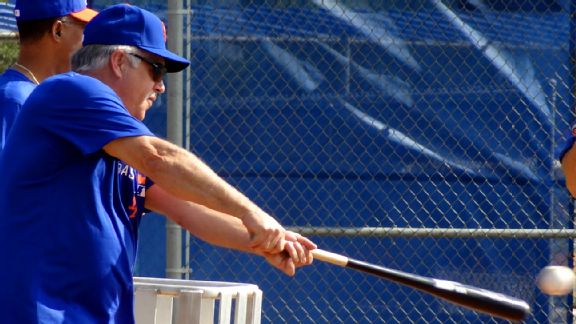 Adam Rubin
Wally Backman is joining the Mets on Friday in Atlanta as a coach. He may remain on the staff in 2015.NEW YORK -- Fans may view Wally Backman as their preferred successor to Terry Collins as Mets manager. Instead, Backman could end up on Collins' staff to open next season.
A team insider told ESPNNewYork.com that Backman joining the 2015 staff as a coach is "under discussion."
Regardless, Collins views Backman as an ally, not a threat. Backman joins the Mets on Friday in Atlanta as an extra coach for the final nine games of the season.
"We have a very strong relationship," Collins said. "Wally and I are very good friends. We always have been -- for a lot of years. When he joined the organization, I was the [minor-league] field coordinator. And I still enjoy my time when I talk to him or when we're together. So I'm glad he's coming. He brings a lot to the table."
The Mets annually bring one minor-league coach to the majors in September as an extra staffer. Last year, Double-A Binghamton manager Pedro Lopez received that honor. Two years ago, Backman received the call-up after managing Triple-A Buffalo.
This year, Backman's Las Vegas 51s finished with an 81-63 record and won their division before being bounced in the first round of the playoffs.
"It's nice to have those guys, especially this time of year -- a manager who has seen [September call-up] players on the other teams," Collins said. "I'll be glad to have Wally here."
The same thing that attracts fans to the fiery Backman endears players to him as well.
"His passion for the game is obvious," Kirk Nieuwenhuis said with a hearty laugh about Backman, who turns 55 on Monday. "Everybody knows Wally. Everybody knows how animated he is and stuff like that. Like any good manager, I think he knows his players and he communicates well with all of his players. That goes a long way. Like I said, his passion for the game is obvious. He's fun to play for."
One moment?
"Bobby [Abreu] hit a home run, I think maybe against Tacoma," Nieuwenhuis recalled. "I thought it was fair. I think we all thought it was fair. It's a tough angle from the dugout, but it was kind of a big situation. Obviously Wally thought it was fair, too. He was pretty fired up. He went out to argue with the first-base umpire and the guy ended up tossing him. Wally got pretty animated."
Erik Goeddel said the ball was definitely fair.
"It wasn't even close," the reliever said.
Goeddel added about the ensuing scene: "He started yelling. He threw his helmet. He got ejected. What's funny is the helmet kind of landed in foul territory, but it was in play. And I don't think the umpires noticed it. And it sat there the entire game. It was great."