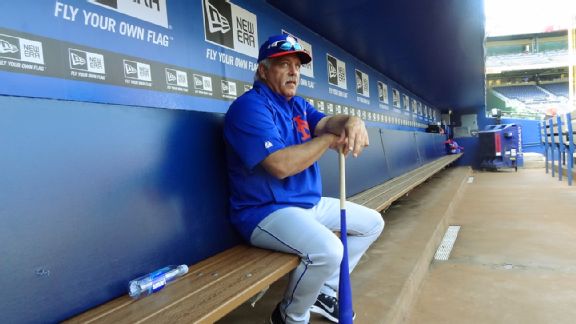 Adam Rubin
Wally Backman joined the Mets on Friday for the final nine games of the season.ATLANTA -- Wally Backman tactfully indicated Friday that he hopes to get a chance at the major league level.
"I think that's why the players play and I think that's why coaches coach," Backman said inside the visitors' dugout at Turner Field, after joining the staff as a September call-up for the final nine games of the season.
Still, Backman said he has had no discussions about his role for next year. ESPNNewYork.com reported Thursday the Mets are internally discussing adding Backman to the coaching staff for 2015.
"I don't know if I'll be hunting all year or not," Backman said. "I don't know. We'll see."
Before Friday's series opener against the Atlanta Braves, Backman broke down several of the top prospects he managed at Triple-A Las Vegas this season. Here's a rundown …
NOAH SYNDERGAARD, rhp
"I'll say what you've probably heard a million times: He's still very, very young. He just turned
Syndergaard 22 the last week of the season. Stuff-wise he's probably second to nobody, but he has a lot to learn mentally. If he has the right guy behind the plate, he's going to be pretty good, because the catcher really runs the game for him right now. He needs to learn to be able to call his own pitches in certain situations at the minor-league level, for sure, and trust the stuff that he has. For me, it's all about consistency for him and really being able to command the fastball."
Backman agreed with reports Syndergaard can become too reliant on his fastball.
"That's very accurate. There was one point where he got hit hard this year where he threw 27 or 28 fastballs in a row. You call them 'AAAA' guys -- the guys that have been in the big leagues, the up-and-down guys. They all want to go to the Pacific Coast League because they can put up big numbers. And those 'AAAA' guys, so to speak, they don't miss that fastball when they know it's coming. That happened to Noah quite a bit."
Backman added that Syndergaard's other pitches are quality.
"He's got a very good changeup. And his breaking ball is very good. All the pitches are there. It's just learning how to use those pitches in the right situations. He may be better when he gets to the big leagues, just like [Matt] Harvey was when I had him."
Harvey, of course, may have been bored in Triple-A and underperformed? Backman did not say that was the case with Syndergaard.
"Matt's a smart kid. He's a college graduate. Noah is a younger kid that's still learning. For me, mentally, he's got to get a little bit tougher. Trust me, I would never let him go, because of his stuff. He's going to be a quality major league starter. There's no question in my mind that's going to happen. When that happens? The timetable has slowed down a little bit on him because everybody expected him in July."
Backman added that Syndergaard needs to work on his pace while pitching.
"That's pretty accurate. The tempo of the game, he needs to speed it up. And at times he'll show good tempo. But, again, it all boils down to consistency. And he's not consistent enough. Just way too much time in between pitches. Slow to the plate with base stealers on at times. So there's room for improvement in all facets of the game for him. But, again, the stuff is there. When he learns to speed the game up a little bit for himself with guys on base, base stealers, he'll be pretty good."
KEVIN PLAWECKI, c
Plawecki "Kevin is a very smart individual and works very hard. In my opinion, he still needs time. He's slides forward a little bit. He lunges a little bit. I think the hard stuff can give him trouble at times. But he's another guy that's got great hand-eye coordination and makes up for it. Down the road, when he's ready, he's probably going to be pretty good."
And Plawecki's defensive skills?
"He's more of an offensive player, but very smart in the sense of calling a game -- reading hitters' swings, seeing the swings and misses and those type of things. He's very good at that. Throwing-wise he's just average. But he really does, from what I've seen in the short time I had him -- a half-year or whatever it was -- running a pitching staff he did a nice job."
MATT REYNOLDS, ss
Reynolds "This was the first real good year that he had, I think, offensively. I know he was a high pick, but he really showed he can handle the bat. He's not a home run guy. He's a guy that slaps the ball around. He's a gap-to-gap guy. I was impressed with the way he played shortstop. At the start he was just kind of an ordinary guy. But he kind of grew on you as time went on. Very solid defensively.
"But he's another kid that probably needs a little bit of seasoning. You know, one good year doesn't make you an All-Star. So this was really his first good year. And I think the developmental part of it for this kid, with the way his work ethic is, he's going to be a pretty good player someday."
MATT BOWMAN, rhp
Bowman "He's a guy that has a four-pitch mix. He throws everything for strikes at any time. I think he went to Princeton. A smart kid. He kind of has the [Tim] Lincecum look. That's the way his delivery is. He competes. He doesn't throw 95 mph, but he's still 91-93 mph with the four pitches that he commands very well. You can call him a sleeper. I won't, because I think he's going to pitch in the big leagues."
JACOB DeGROM, rhp
"I'm not surprised with deGrom. I really believed that he was a guy that was going to be a dominant type of pitcher -- the way he competes, his stuff. He's got swing-and-miss stuff. I didn't want to lose him as fast as I lost him. I knew that it was the right move. He's probably pitched better than a lot of people expected, but I've seen a lot of the things in him that were going to make him good. For him to make that transition as fast as he did, it probably surprised a lot of people."
WILMER FLORES, ss
"When he's played on a regular basis when he's been up here, he's done very well, from what I've seen. The two years that I had him he hit in the middle of the order. He played every day. He was a run producer. Where he played was shortstop, second, some third, some first. But Wilmer is a guy that has got to produce with his bat. And if he can do that on a consistent basis, then he can help Terry [Collins]."