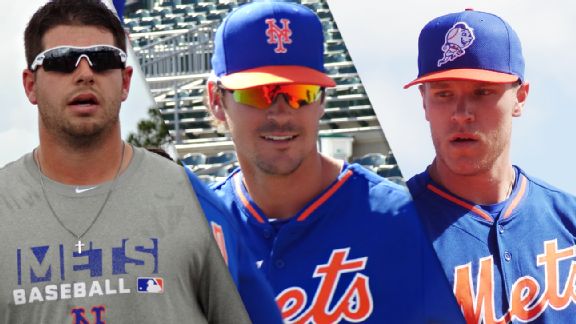 Adam Rubin
Kevin Plawecki, Matt Reynolds and Noah Syndergaard are the most likely prospects to debut in 2015.This is the first in a series of 10 Burning Questions regarding the Mets.
Noah Syndergaard never did reach the majors this season, but it is only a matter of time before the 22-year-old right-hander debuts. Of course, with the Mets already possessing six established starting pitchers for five slots with Matt Harvey's return, Syndergaard (9-7, 4.60 ERA with Triple-A Las Vegas) should have to wait until in-season in 2015 for a call-up. That's not necessarily a bad thing, since it will allow the Mets to delay Syndergaard's free agency until after the 2021 season. It also potentially avoids an extra year of arbitration eligibility.
Here are nine other prospects who may debut in 2015:
Kevin Plawecki, catcher. If the 40-man roster wasn't already full, Plawecki likely would have been a September call-up instead of Juan Centeno. But Plawecki -- a supplemental first-round pick in 2012 out of Purdue -- does not need to be added to the 40-man roster this winter for Rule 5 protection. He probably opens next season in Las Vegas, with Anthony Recker serving as Travis d'Arnaud's backup, but Plawecki won't stay down forever. Plawecki, 23, hit a combined .309 with 11 homers and 64 RBIs in 376 at-bats between Double-A Binghamton and Las Vegas.
Matt Reynolds, infielder. Dilson Herrera needed to be added to the 40-man roster this offseason for Rule 5 protection. Matt Reynolds, a second-round pick out of the University of Arkansas in 2012, did not. So that's one major reason why Reynolds was bypassed for a call-up after Daniel Murphy landed on the DL in late August with a right calf strain. Reynolds, 23, raised his average 117 points from last season in Class A ball to this season at higher levels. He hit a combined .343 with six homers and 61 RBIs in 478 at-bats between Binghamton and Vegas. He has been manning shortstop and looking passable, although he may project more as a backup middle infielder.
Mazzoni Cory Mazzoni, right-handed starter. Mazzoni's season did not start up until late June because of a strained right lat suffered in the final spring-= training game in Port St. Lucie. Although he has been a starter throughout his minor league career, the Mets already were speaking last offseason about using the NC State product in the bullpen in the majors.
Jack Leathersich, left-handed reliever. The 24-year-old southpaw has gaudy career minor league strikeout numbers. He has K'd 334 in 197 ⅓ innings. Leathersich, like Mazzoni, should be added to the 40-man roster this offseason. Before Leathersich reaches the majors, though, he needs to harness his control. He walked 4.6 per nine innings this season, which actually is down from 6.9 in 2013.
Steven Matz, left-handed starter. Matz, who hails from Stony Brook on Long Island, is the top left-handed prospect in the organization. He took a no-hit bid into the eighth inning in Binghamton's Eastern League championship clincher. Matz should be ticketed to open 2015 in the Triple-A rotation after going 10-9 with a 2.24 ERA and posting 131 strikeouts in 140 ⅔ innings with St. Lucie and Binghamton this season.
Bowman Matt Bowman, right-handed starter. Vegas manager Wally Backman said Bowman is not a sleeper to him and definitely should be a major leaguer. Bowman, a Princeton product with a Tim Lincecum-style delivery, went 10-8 with a 3.21 ERA with Binghamton and Vegas this season. The primary thing that may hold Bowman back is the organization's depth of young, upper-level starting pitching.
Logan Verrett, right-handed starter. Expected to be added to the 40-man roster this offseason, the former third-round pick out of Baylor went 11-5 with a 4.33 ERA in 28 starts for Vegas.
Nimmo Brandon Nimmo, outfielder. Nimmo would appear on track for at least a September call-up considering the Mets are light on upper-level outfield prospects, and he will need to be added to the 40-man roster during the 2015-16 offseason anyway. Looking considerably stronger after spending last winter at the IMG Academy bulking up, the 21-year-old Nimmo hit a combined .278 with 10 homers, 51 RBIs, 14 steals and a .394 on-base percentage in 558 plate appearances between St. Lucie and Binghamton.
Jeff Walters, right-handed reliever. Already on the roster, Walters was in big league camp last spring training, coming off posting a Binghamton-record 38 saves in 2013. He underwent Tommy John surgery June 17, so if he appears in the majors next season -- no guarantee -- it probably would not be until September.